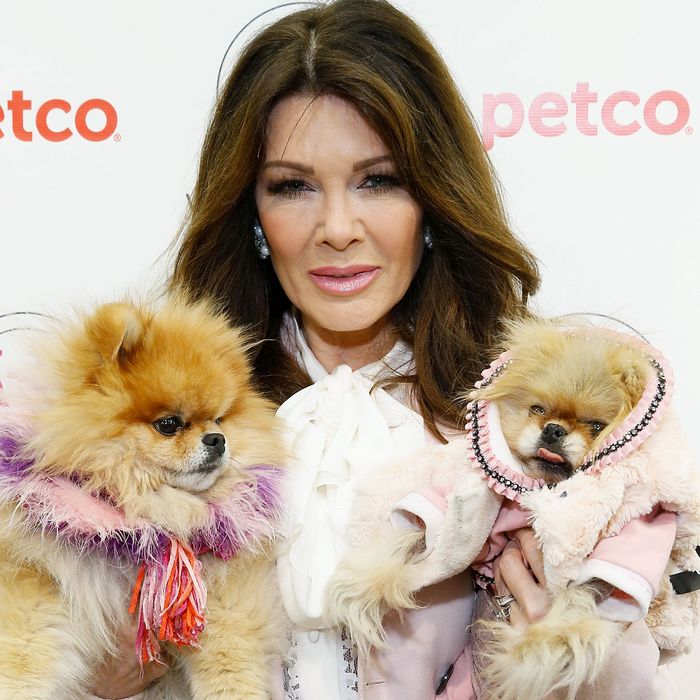 Lisa with her dogs Hansen (L) and Giggy (R).
Photo: Getty Images
As sure as the sun rises in the east and sets in the west, at any given time, at least one Real Housewife will be involved in some sort of personal or professional drama. In this case, it's Lisa Vanderpump — star of the Beverly Hills franchise, mother of the entire Vanderpump Rules cast, founder of the Vanderpump Dog Foundation, designer of luxury dog products, and all-around crazy dog lady.
"Page Six" is reporting that Lizzie Scherer of Saving Spot dog rescue says that Vanderpump and husband Ken Todd have neglected to pay her the $32,000 they had agreed upon, and that the organization will be shuttering. (As recent news has demonstrated, animal-rescue people are not to be messed with.) Here's her side of the story:
"Ken approached us about doing a deal where they would essentially take over my facility," Scherer says. "He was looking for a space to lease. We signed a [memo] saying that he would pay my rent for the next three years … and offer me an employment contract as part of that deal. He then didn't pay rent and said he'd pay one month's rent as long as I signed [a nondisclosure agreement] and let them out of it."
Vanderpump has quite a different account of events:
We can't be involved with someone who doesn't have a charity set up properly. Everything was messy. We helped pay her rent. We were purely trying to help her because of our love of dogs, not because of our love of Lizzie.
Based on previous news coverage, Scherer's organization seems sketchy, to say the least. A CBS L.A. investigation found that Saving Spot had their tax-exempt status revoked by the IRS back in 2015, so they've technically been receiving donations illegally since then. They also charge an exorbitant $475 adoption fee and the Yelp reviews are overwhelmingly negative, with many people referring to Saving Spot as a scam and a puppy store masquerading as a rescue.
Vanderpump's Pomeranians, Giggy and Hansen, have yet to comment publicly on the scandal.