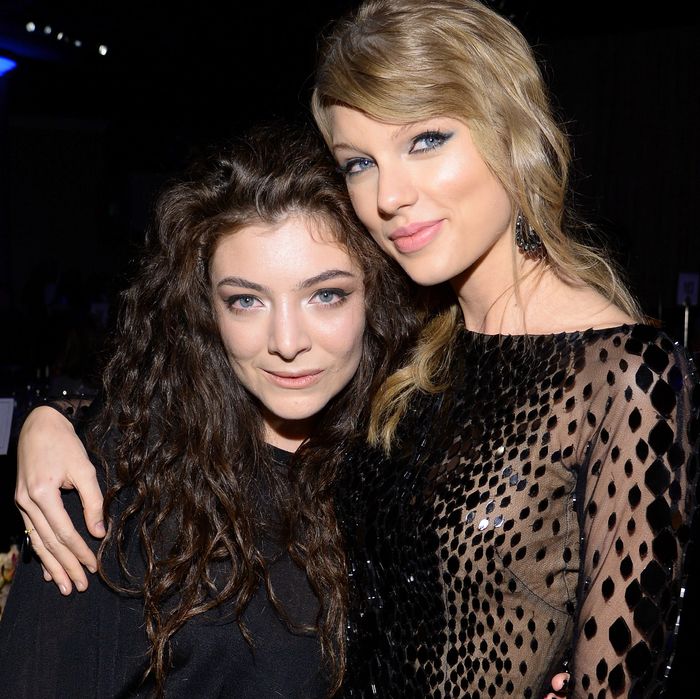 Lorde and Taylor Swift.
Photo: 2014 Getty Images
Taylor Swift's squad — once a force so rapacious and ever-growing it seemed poised to engulf the entire world — has taken some hits lately. Last weekend, Taylor Swift skipped her annual Fourth of July party, depriving us of countless Instagrams of Ruby Rose sliding down a star-spangled waterslide. And now, in even more tragic news, the squad seems to have lost one of its key members: Lorde.
A few weeks after Lorde described being friends with Swift as "like having a friend with an autoimmune disease," Lorde gave an interview to Australia's Sunrise, where she was asked what it was like befriending some of her idols, like Taylor Swift and Beyoncé. Her shocking response: "I don't hang out with these people at all."
Beyoncé, well, sure. But Lorde and Taylor have a long and well-documented friendship history. What about all the times they took walks together in matching outfits? Or when they celebrated, like, every birthday together? Or when Taylor taught Lorde how to be friends with girls? Or when Lorde referred to Taylor as one of "her sisters"? Or their cooking class together? Or the long-distance FaceTimes? Or the scrabble games? Or not four months ago, when Taylor Instagrammed the words "ELLA I LOVE YOU"?
"But hang on, you're part of Taylor's squad, all the magazines tell us!" host David Koch presses.
Lorde responded with a chuckle and a hint of an eye-roll. "You know, you make friends in different places, but I think for the most part I'm not like, calling my idols for advice necessarily." She later clarified in a Twitter statement that she merely meant she was not friends with her idols David Bowie and Patti Smith.
However, Lorde went on to say that she "always found people's perception of this 'squad' idea frustrating in the past; it was never some exclusive club or secret society, but a wide circle of people, some of whom I know, and some who I've never met, like most wide groups of friends." So it appears that she does, in fact, not identify as a squad member after all.
This post has been updated throughout.