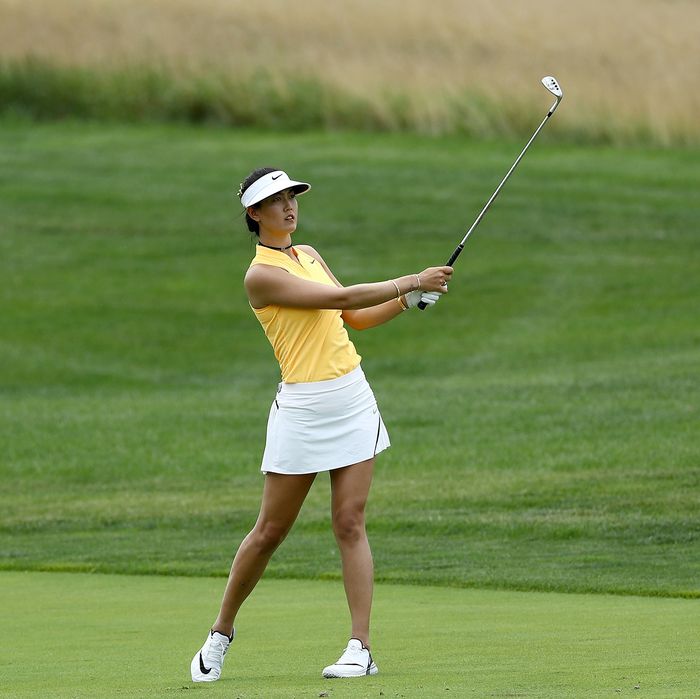 Professional golfer Michelle Wie looking way too cute at the U.S. Open.
Photo: Elsa/Getty Images
Everyone knows women's golf outfits are meant to be boxy and formless. But a handful of rogue lady golfers, pushing the envelope with collarless racerbacks, have apparently taken it too far. Now, the LPGA, the governing body for women's professional golf, is cracking down.
Of course, this comes at a time when — other than President Trump who spent yesterday at the U.S. Women's Open — no one really likes golf. TV ratings have tanked post–Tiger Woods, and fewer people are joining country clubs. (With the exception of those golfing stalwarts Gisele Bündchen and Tom Brady.)
Meanwhile, attractive female golfers with short skirts and powerful drives are increasingly popular on social media and attracting lucrative sponsorships.
"In an era when Instagram 'golf babes' are dressing more provocative than ever and consequently attracting more attention and sponsorships than many professional golfers do, perhaps the LPGA Tour is trying to set an entirely different tone in an effort to command respect and separate itself as a highly different, more professional product," Golf Digest's Ashley Mayo writes. "Even so, why take away a golfer's freedom to feel like an athlete in joggers?"
Below the new rules (emphasis LPGA):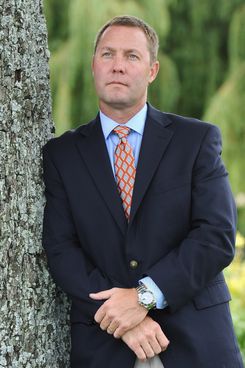 -Racerback with a mock or regular collar are allowed (no collar = no

racerback)

-Plunging necklines are NOT allowed.

-Leggings, unless under a skort or shorts, are NOT allowed

-Length of skirt, skort, and shorts MUST be long enough to not see your bottom area (even if covered by under shorts) at any time, standing or bent over.

-Appropriate attire should be worn to pro-am parties. You should be dressing yourself to present a professional image. Unless otherwise told "no," golf clothes are acceptable.

-Dressy jeans are allowed, but cut-offs or jeans with holes are NOT allowed.

-Workout gear and jeans (all colors) NOT allowed inside the ropes

-Joggers are NOT allowed
Heather Daly-Donofrio, the tour's chief communications and tour-operations officer explained the decision to address changing fashion trends in a statement to Golf Digest:
"The dress code requires players to present themselves in a professional manner to reflect a positive image for the game. While we typically evaluate our policies at the end of the year, based on input from our players, we recently made some minor adjustments to the policy to address some changing fashion trends. The specifics of the policy have been shared directly with the members."