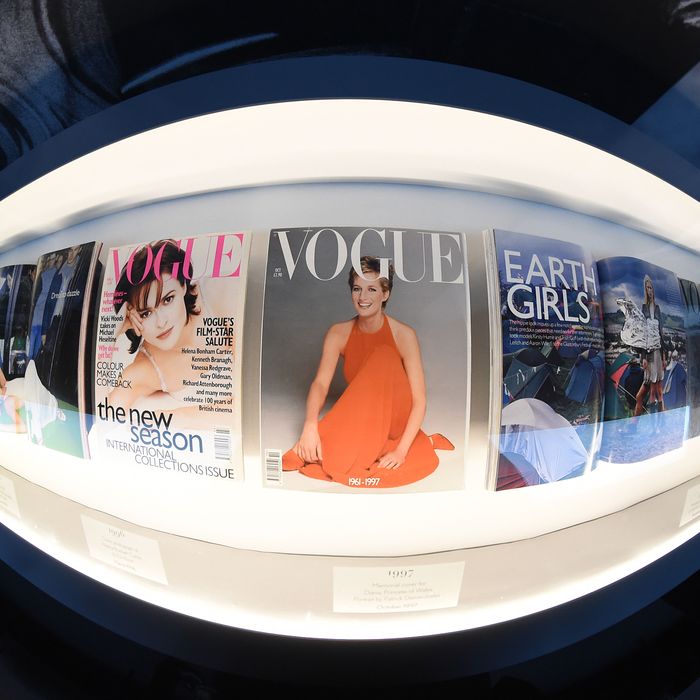 British
Vogue
.
Photo: Stuart C. Wilson/Getty Images
Lucinda Chambers, fashion editor of British Vogue for 25 years, gave a blisteringly candid account of the fashion industry to the journal Vestoj. So candid, in fact, that the essay was taken down from the site, only to be republished today with the disclaimer: "Due to the sensitive nature of this article, we took the decision to temporarily remove it from the site."
Chambers recounts in the interview being fired by Edward Enninful ("It took three minutes"), reveals that she hasn't read Vogue in years, and gives example after example of fragile relationships and anxiety in fashion. She says, "Fashion can chew you up and spit you out."
You're not allowed to fail in fashion — especially in this age of social media, when everything is about leading a successful, amazing life. Nobody today is allowed to fail, instead the prospect causes anxiety and terror. But why can't we celebrate failure? After all, it helps us grow and develop. I'm not ashamed of what happened to me. If my shoots were really crappy … Oh I know they weren't all good — some were crappy. The June cover with Alexa Chung in a stupid Michael Kors T-shirt is crap. He's a big advertiser so I knew why I had to do it. I knew it was cheesy when I was doing it, and I did it anyway. Ok, whatever. But there were others … There were others that were great.
But in fashion you can go far if you look fantastic and confident — no one wants to be the one to say ' … but they're crap.' Honestly Anja, you can go quite far just with that. Fashion is full of anxious people. No one wants to be the one missing out.
She likens the industry to "a shoal of fish; it's cyclical and reactionary." While many have written on the stresses of the fast-pace industry, she talks about the emotional cost for designers at big conglomerates like LVMH.
Big companies demand so much more from their designers — we've seen the casualties. It's really hard. Those designers are going to have drink problems, they're going to have drug problems. They're going to have nervous breakdowns. It's too much to ask a designer to do eight, or in some cases sixteen, collections a year. The designers do it, but they do it badly — and then they're out. They fail in a very public way. How do you then get the confidence to say I will go back in and do it again?
One thing she does love in fashion? Vetements.
[… H]onestly I was really really really excited. You know what was smart about it? It was the scale — you saw this tiny model emerge and it took forever for her to get close to the audience. It built up expectation. Everything was thought through: the casting, the music, the space. Everything. And I loved how we were all seated: so far from each other, it all felt anonymous. Normally at a fashion show, everyone looks at each other — who wears what, who sits where. 'Oh, she's got the new Céline shoes.' But here you felt as if you were on your own. It was a new feeling.
The essay ends with the blistering realization that she hasn't read Vogue in years and "never felt like I led a Vogue-y kind of life," despite being a top editor for two decades.
Truth be told, I haven't read Vogue in years. Maybe I was too close to it after working there for so long, but I never felt I led a Vogue-y kind of life. The clothes are just irrelevant for most people — so ridiculously expensive. What magazines want today is the latest, the exclusive. It's a shame that magazines have lost the authority they once had. They've stopped being useful. In fashion we are always trying to make people buy something they don't need. We don't need any more bags, shirts or shoes. So we cajole, bully or encourage people into continue buying. I know glossy magazines are meant to be aspirational, but why not be both useful and aspirational? That's the kind of fashion magazine I'd like to see.