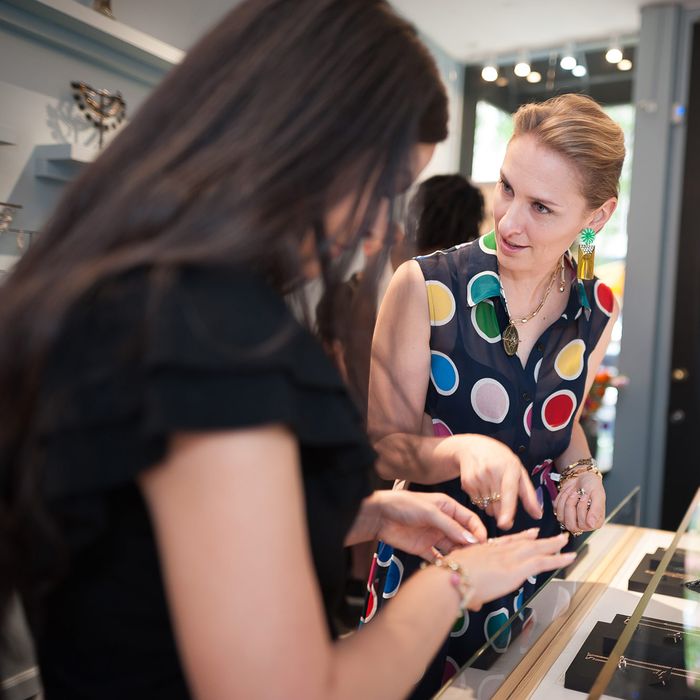 Designer Lisa Salzer-Wiles at the opening of Lulu Frost's first New York City store.
Photo: BFA
Thirty seconds into talking to Lisa Salzer-Wiles, designer of the fine-and-costume-jewelry brand Lulu Frost, she tells me her star sign (Scorpio) and says, "I'm a hippie, man." Her first brick-and-mortar store supports that admission, opened last night at a party as true to Lulu Frost's brand as the store, complete with a Popsicle cart. The store itself is painted pale blue and lined with flowers and display cases — it feels like a chic antique store. And in some ways, it is.
Salzer-Wiles specializes in highly personalized vintage jewelry and rose to fame after discovering the Plaza Hotel's bronze room numbers at a Chelsea junk shop. She made them into necklaces and sold them to Barneys, where they were an instant hit.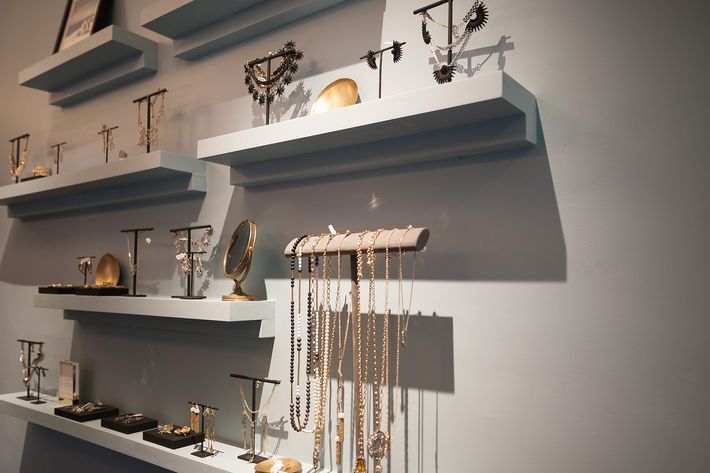 Previously, she sold her brand only online and at trunk shows. Years of sourcing vintage charms have manifested into a build-your-own charm-bracelet station at the new store, next to her own collections focusing on zodiac constellations and "code words" — a line that tells a secret message through a series of gems. There's also a corner where you can buy a customized bouquet.
"It's the idea of hidden themes," Salzer-Wiles said. "Around the world I've heard the most intimate stories from people about why they like certain numbers or code words. And I became obsessed with the idea of the Victorian language of flowers. … What unites the floral concept and the jewelry is this hidden meaning that really connects to the individual."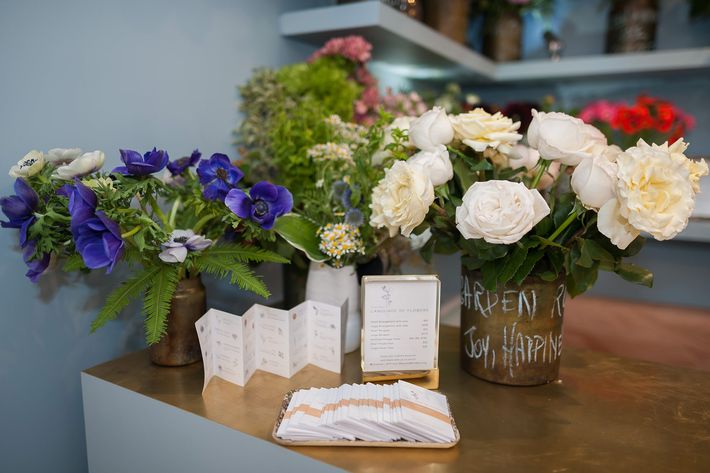 Floral arrangements are designed by Tess Casey, a florist who worked on Sex and the City, The Devil Wears Prada, and, currently, Oceans Eleven. Vases of flowers on the walls detail each bouquet's meaning: Dahlias for love, chamomile for healing, and Queen Anne's lace for comfort. Each personalized arrangement comes with a decoder.
Opening a retail store right now may not be the most intuitive choice, as brands keep scaling back. Salzer-Wiles acknowledged this, but said that while working as a designer for over 14 years, she's learned that people enjoy interacting with and creating a unique product. "In order to get them offline, you need to give them something more that's enlightening and helps them learn," she said. "I thought there was no better way than just to make a workshop environment in the store. There's no better time to break the mold than when it's going through a tough time."