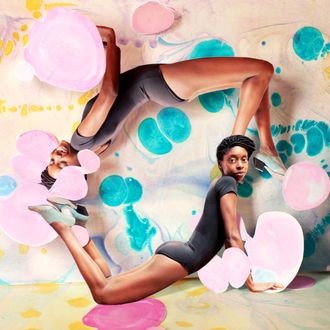 Artwork By: The Push Pose
Get Madame Clairevoyant delivered every week.
Tomorrow, Mercury moves into Virgo, and its great gift is to settle your thoughts into a sharp clarity and a quiet precision. If your speech feels natural and your thought feels clear, what other energy are you left with? What other space could open up for action?
Aries: This isn't the one week that will finally fix your whole world. It's okay, sometimes, to accept a smaller offering. It can be enough just to make a temporary peace with your face or your skin or your memory. It can be enough just to trust your body enough that you can rest inside it. If you're willing to accept something less than perfection, that's when the world can surprise you.
Taurus: You're lucky to already be so decent and brave in the face of real danger but how, this week, will you deal with your quieter, more slippery fears? Remember, you don't need to fear that you aren't enough, and you don't need to fear you'll be forgotten. There are so many different ways the world will invite you to be afraid, but you're still stronger than any of them.
Gemini: This is a week for memory, and it's a week for forgetting, too. It's a week for letting yourself live in the past, if you need to. Sometimes memory can weigh you down but sometimes it can make you strong. Who are the ghosts that call to you, and how will you greet them?
Cancer: Outside in the sun's glaring brightness, it's not easy to recognize every gift that's offered. The world has so much to give, but it doesn't always announce them in a language you can hear. Sometimes, the kindest gift is just empty space, or an afternoon that belongs only to you. Sometimes, the most generous gift is just one good moment. If you pay attention, you can recognize these small sweet freedoms.
Leo: Don't ignore the power flowing through you, this week. Don't ignore the wild strength in your arms, or the electric charge in your thoughts. But no power means you need to upend your own life. Power doesn't mean you need to wreck or rebuild the world. Sometimes, all you need to do with it is remain unmoved in the face of greed or unkindness.
Virgo: You don't have to maintain good cheer in the face of every rainstorm, but this week, you might be able to notice the colors around you in a brighter way. Pay attention to the greens and the blues and the yellows; pay attention to the orange sky at night. Even now, let yourself notice the world's vibrancy. It can start your own heart vibrating, too.
Libra: You don't have to move at the same speed for the rest of your life, and you don't have to keep accelerating forever. Some weeks are for moving slowly, and some weeks are for stopping, standing still. You can change rapidly, but you can change slowly, too. You can change direction entirely. Your feelings aren't bound by the laws of physics, and you don't have to keep the same pace forever.
Scorpio: It's easy, sometimes, to talk about your desires until you reach a conclusion about how you want to live in the world. It's vital and good to feel these flashes of clear vision that light up the night, but it's so much harder to carry it all with you. It's so much harder to keep it in your heart full on days that are long or slow or dull. This is a week for remembering your commitments to yourself, and holding them close to you.
Sagittarius: This is a week for encountering the unexpected and moving through it. It's a week for encountering the unexpected and sitting quietly with it. Sometimes your surprises look like rain, and sometimes they look like shadows. Maybe you'll come across a clearing in the woods where you expected only darkness. Maybe a green and gold dream will come to you in the middle of a restless night.
Capricorn: This week, be prepared for some kind of intimacy to find you, even if you aren't expecting it, even if you'd rather hide from it. There are so many ways the world holds you close. There are so many people with emotions as weird and messy as yours. Your own feelings can feel sharp inside you, and your own love can surprise you, and that, all of it, is okay.
Aquarius: This is a week to resist the impulse to let a hostile world turn you hostile, or the impulse to let a selfish world make you small. You can't control every bad thing in the world, but you don't have to let it twist your insides up. This week, it's okay to require a softness in the things you'll allow to touch your skin. Your life is still your own, and you don't need to invite anything into it but goodness.
Pisces: There are weeks for following only your own heart, and there are weeks for something different. It's okay, sometimes, to act out of duty. It's okay sometimes to act out of love for the world. It isn't even a matter of sacrifice; this is just the work of becoming more human. Even while you're dreaming of flying, it's good that you're just where you are, with your feet on the ground.
Get Madame Clairevoyant delivered every week.