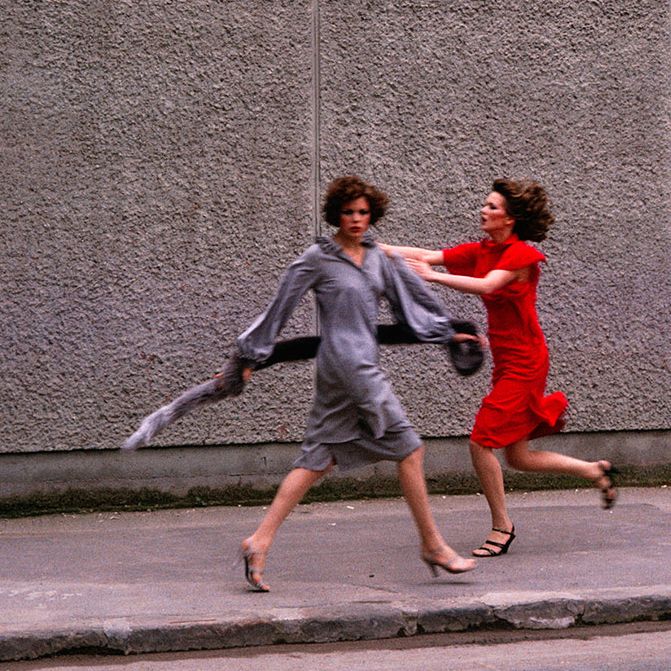 The new Maison Chloé in Paris is a renovated, private, five-floor mansion of marble fireplaces, stained-glass windows, and herringbone floors. It hosts the label's showrooms and archives, including a public pocket history of iconic designs from the label's 65-year legacy. The new space also features rotating temporary exhibitions, a program that debuts with "Femininities — Guy Bourdin." The French photographer's Surrealism-tinged photographs are paired with Chloé garments at once representative of the label's sartorial history and integral to Bourdin's compositions.
The pairing is an easy one: Chloé was the ready-to-wear brand Bourdin photographed most frequently during his decades of editorial production for Paris Vogue and ad campaigns for Charles Jourdan (the footwear label was Bourdin's quasi-patron from 1967–1981). Although Bourdin was known to photograph within the grounds of then-designer Karl Lagerfeld's home, the artist/brand collaboration remained unofficial.
The exhibition's curator Judith Clark — who has also organized shows around Diana Vreeland, Anna Piaggi, and most recently around the theme of "the vulgar" at the Barbican — began familiarizing herself with the label's archive when she curated "Chloé. Attitudes" at the Palais de Tokyo in 2012. That earlier acquaintance with the annals of the brand enabled her to reach for examples beyond the obvious showstoppers.
"You're shown key pieces because they're key pieces; when you go again, you find a piece that is perhaps important differently," she noted. One such example is a floral silk dress (spring/summer 1971), displayed both on a plinth and within a slightly uneasy black-and-white Bourdin photograph — it's sported by one of two models under a parasol, observing prisoners hunched over a railway track.
Bourdin (1928–1991) was raised by his grandparents in Normandy and spent his childhood around their family business, the Brasserie Bourdin. To fulfill his military service, he worked as an aerial photographer in the French Air Force, and later bought out a wedding photography business to start his own practice. A protégé of artist Man Ray, he turbocharged eroticism and fantasy into heavily choreographed and stylized scenes.
The exhibition starts with Bourdin's strategic approach to magazine mise-en-page, showing his double-page spreads in splayed vintage editions of French Vogue. His careful cropping and irreverent framing is echoed by Chloé designs under Lagerfeld: There's an especially illustrative dress from 1984 adorned with a pair of trompe l'oeil sequin-embroidered scissors that seemingly cut into the very fabric of the garment.
Moreover, the tone of the photos is matched in arch captions Lagerfeld often contributed to Vogue spreads alongside Chloé pieces. Of one black manteau embellished with white lines, which Bourdin photographed from the back in 1979, Lagerfeld wrote slyly under it: "When you're at the theater, the people seated behind you have the right to some embroidery."
"He was moving the boundaries of fashion photography very fast," Clark said of Bourdin and his louche gaze. Bourdin played with "sex as an enigmatic drama," with "parodies of pornography," and with "the alienation of fashion," the wall texts highlights. Indeed, Bourdin capitalized on desire and intrigue in scenes tinged with sinister vibes — he emphasized the graphic, in both senses of the word. "He was so attentive to the construction of the image that you think he's certainly aware," Clark noted of Bourdin's manipulation of expectations.
"There's an awkwardness, isn't there, in the viewer — can I laugh? Am I allowed to laugh? You don't know whether it's tongue-in-cheek; you don't know where the joke lies." Of Chloé garments assisting in these disconcerting visuals, Clark remarked: "They don't always participate in easy stories in the hands of Guy Bourdin, but that's the point of this building, not the problem."
This ambiguity of the collaboration, however, is precisely what maintains a thrilling mystique. "I remember my mother saying she thought Chloé was 'amusing,'" Clark reminisced. "Things like that, they stay in the staging of a particular brand."
"Femininities — Guy Bourdin" is on view at Maison Chloé, 28 Rue de la Baume, 75008 Paris from July 4 to September 6, 2017. The exhibition then reopens during the FIAC and Paris Photo art fairs, from October 18 to November 18, 2017.