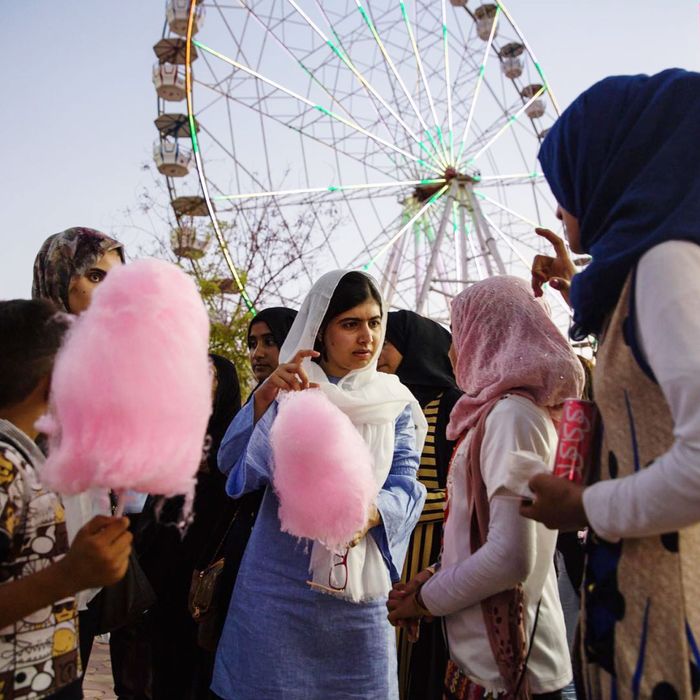 Malala Yousafzai celebrating her birthday.
Photo: Malin Fezehai/Courtesy of Instagram/malalafund
Malala Yousafzai turned 20 on Wednesday, and instead of throwing herself a big party, she opted to ring in the occasion by spending the day at an amusement park in Iraq with young girls who were forced out of school in Mosul. The activist's celebration occurred mere days after the Iraqi Army officially regained control of Mosul from the Islamic State.
Malala landed in Iraq on Monday — shortly after she finished her final high-school exams — as part of her so-called "Girl Power Trip," which aims to raise awareness of girls' education. She spent the day with young girls who had been displaced because of ISIS and subsequently spent years out of school, then threw an unofficial birthday party at an amusement park, where they rode carnival rides, ate cotton candy, and shared stories.
The Nobel Peace Prize winner wrote on her blog, "I chose to spend my birthday this year in Iraq to meet girls like 13-year-old Nayir. When extremists occupied Mosul, Nayir could not go to school for three years. Her family fled the city in April, when her father was captured by ISIS. They haven't heard from him since."
Malala explained that she understands how Nayir feels, as she wasn't sure if she'd ever return to the classroom when her family fled violence in Swat Valley, Pakistan, when she was 11 years old. "While I'm in Iraq, I will meet many girls who share my story," she wrote. "These girls — Iraqi, Kurdish, Christian, Yazidi, Syrian — have all suffered violence and fear in their young lives."