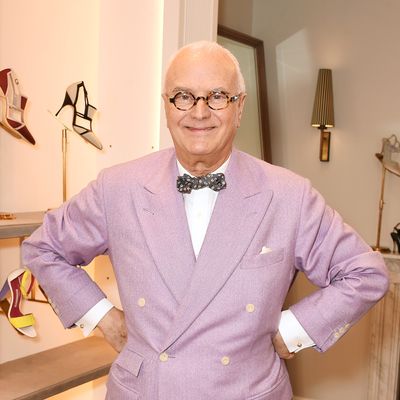 Manolo Blahnik.
Photo: 2016 David M. Benett/Getty Images
Are you really a Person in Fashion if you don't even have a documentary about you, or the institution you work for? Manolo Blahnik is now adding this particular status symbol to his résumé, right next to making the preferred shoe of Carrie Bradshaw.
The documentary, creatively titled Manolo: The Boy Who Made Shoes for Lizards, is directed by his good friend Michael Roberts. It premieres September 15 and will feature interviews with Anna Wintour, Rihanna, and Naomi Campbell, to name a few.
The trailer flits between candy-colored shoes, shots of Blahnik and Bianca Jagger, and Blahnik miming with Karlie Kloss. And yes, he did say that he used to make shoes for lizards. A look into the "whimsical world" of the eccentric designer indeed.