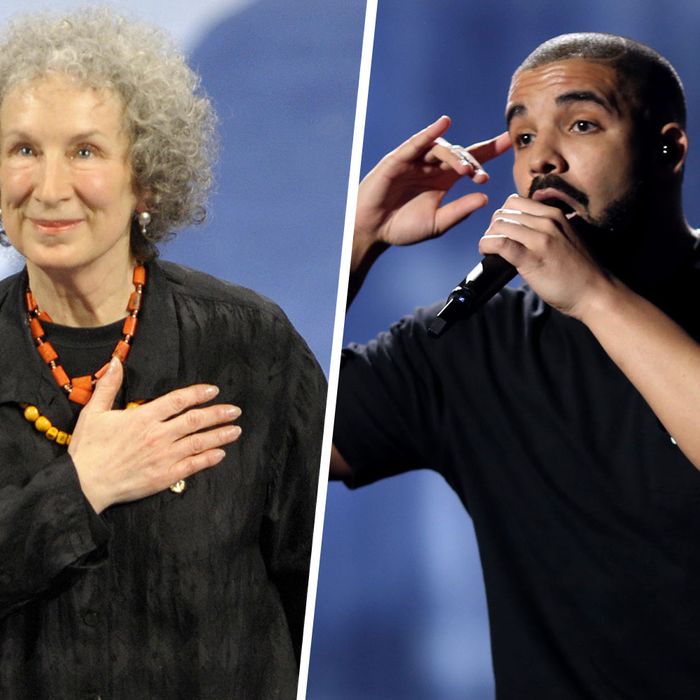 Margaret Atwood and Drake.
Photo: Getty Images
The Handmaid's Tale is already a great advertisement for Canada, but there's one thing that could make it even better: a cameo by Toronto's unofficial ambassador himself.
In an interview with Margaret Atwood in the Boston Review, author Junot Díaz discovers the shocking fact that Toronto's two preeminent "global superstars" — Margaret Atwood and Drake — have never met face-to-face.
"I haven't met Drake, but I have of course met people who have met Drake," Atwood explains. "But you have to realize how o-l-d I am. I'm not likely to go to the same parties. Or many parties at all, to be frank." (Note to Drake: Please invite Margaret to OVO Fest this year.)
When Díaz suggests that Canada is "missing a great opportunity to put these two folks together," Atwood heartily agrees, before offering a game-changing suggestion for next season of The Handmaid's Tale.
"Wouldn't it be fun for him to have a cameo in season two of The Handmaid's Tale?" Atwood suggests. "I'll drop that notion into the ear of Bruce Miller, the showrunner, and see what he can do with that, because of course the show is filmed in Toronto. Maybe Drake could help smuggle someone?"
Now we just need to get Céline Dion onboard and this will truly be the greatest piece of Canadian propaganda ever made.