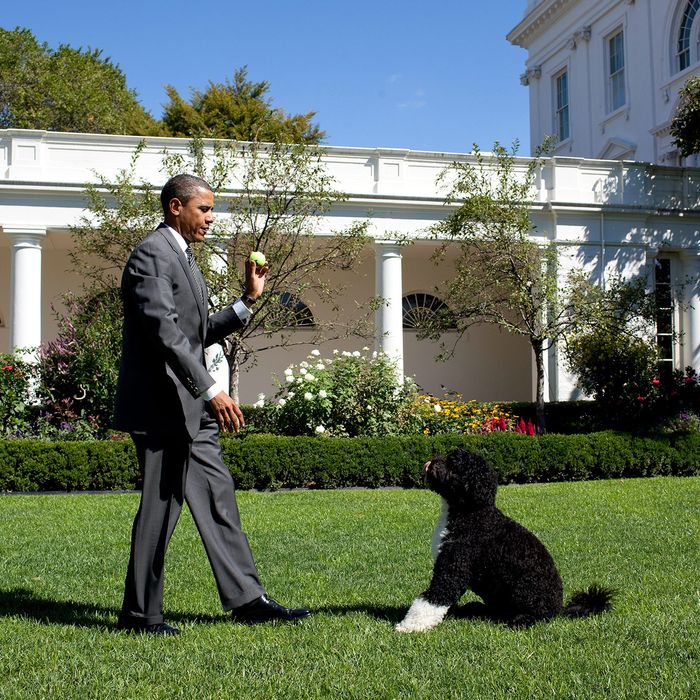 President Obama plays with Bo on the White House lawn.
Photo: 2010 The White House/Getty
Jennifer Pickens, author of Pets at the White House, confirmed to the Associated Press on Monday that President Trump is breaking with yet another White House tradition: having a pet. Though she says that "all didn't necessarily have them at the beginning of the administration," a statement from Melania Trump's spokesperson made it sound as though getting a pet was low on the priority list for the Trumps.
"The First Family is still getting settled so there are no plans [for a pet] at this time," the First Lady said via Stephanie Grisham, her press secretary.
Pets have historically been used to soften a First Family's image — Barbara Bush used the family's dog, Millie, as a "tool to reach out," Pickens said, and as First Lady, Hillary Clinton published a book of children's letters to the family dog, Buddy, and cat, Socks. Pets are "effective tools to connect with the American people and I think pets help humanize the presidency," Pickens added.
But for the president who's so afraid of germs that he once called shaking hands "barbaric," a dog or cat seems like a reach. Luckily Vice-President Pence is picking up the slack — the guy has two cats, a dog, and a pet rabbit with its own Instagram account. We're taking bets on how many failed bills it takes for him to adopt a porcupine.