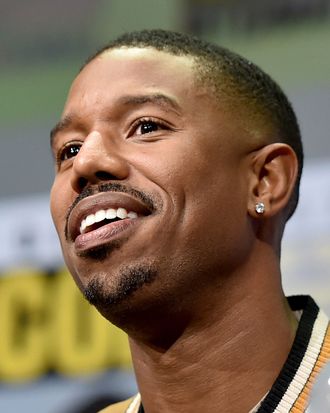 A hot man.
Photo: 2017 Getty Images
Actor Michael B. Jordan is on a roll. He gave an amazing performance in Creed, stars in the upcoming Black Panther film, and just signed on for the Ta-Nehisi Coates–written drama Wrong Answer. But his best acting job to date? Pretending he doesn't know he's hot.
The extremely attractive actor caught up with Entertainment Tonight at San Diego Comic-Con on Saturday, when Jordan was asked how he got so "ripped" for his role in Black Panther. The conversation then naturally transitioned into his undeniably good looks. ET's Kevin Frazier asked, "By the way, how are you handling the whole sex-symbol thing?" to which Jordan replied, "Who, me?"
The 30-year-old actor went on to say, "I'm just adjusting to this new air that I'm kind of breathing in, and it's a balance. I'm trying to find a balance. I'm just trying to mature and develop as a man and as an actor, in front of the screen and behind, so it's cool. I'm handling it okay. My family is keeping me grounded."
Someone give this guy an Oscar already.