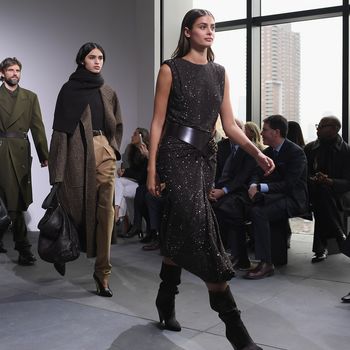 Michael Kors runway.
Photo: Dimitrios Kambouris/Getty Images
Michael Kors has agreed to buy Jimmy Choo and its famous stilettos, inviting a whole lot of Carrie Bradshaw references into our lives.
Michael Kors Holdings will acquire Jimmy Choo for £896 million, or $1.2 billion. While Jimmy Choo will be entirely owned by Michael Kors Holdings, it will retain its current management group.
According to Bloomberg, "Michael Kors stock has lost two thirds of its market value since peaking in February 2014." Buying the famously glamorous line could reverse that pattern.
Michael Kors (the person) said in a news release, "We admire the glamorous style and trend-setting nature of Jimmy Choo designs. We look forward to welcoming Jimmy Choo to our luxury group."