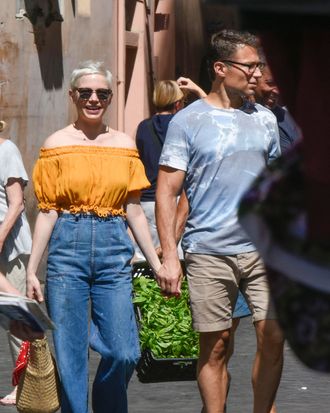 Michelle Williams and not Jonathan Safran Foer.
Photo: The Mega Agency
Over the weekend, the Daily Mail published pictures of actress Michelle Williams holding hands with and kissing a "mystery man" in Rome. And on Wednesday morning, the tabloid identified that man as Natalie Portman emailer Jonathan Safran Foer, who was reported to be dating Williams back in 2015. The only problem? The man in the pictures was definitely not Foer, and the tabloid later published an updated post once again calling him a "mystery man."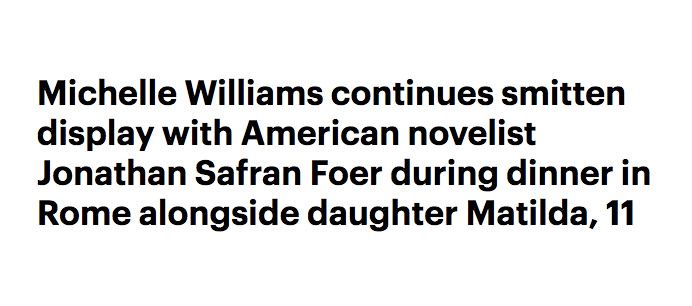 The Daily Mail's original headline read, "Michelle Williams continues smitten display with American novelist Jonathan Safran Foer during dinner in Rome alongside daughter Matilda, 11." The article referred to the author as a "handsome chap, whose identity only recently came to light," and included an information sidebar entitled, "Who is Jonathan Safran Foer?," which explained that he's an author who lives in Brooklyn. The man was also identified in picture captions as being Foer.

However, the Cut's experts — human bloggers with eyes — immediately determined that the man looking boyfriend-y with Williams in both photo sets was not actually Foer. A quick Google image search further confirmed that, while both men are white and have brown hair, they are clearly different people.
So who exactly is the dude in the pictures? No one knows. Even People referred to him as Williams's "new mystery man" (and also her "handsome date"). One thing we do know is that the actress is currently filming All the Money in the World in Rome, which explains their Italian hang. But the Daily Mail's updated post now includes a subhead with the plea: "Do you know who Michelle's mystery companion is? Please email."
We're confident they'll be hearing from Foer shortly.