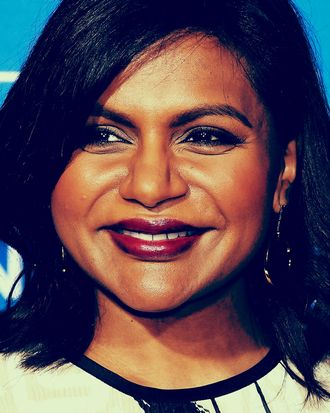 Mindy Kaling.
Photo: 2017 Getty Images
Mindy Kaling is pregnant with her first child, which E! News reports came as an "unexpected surprise" for the 38-year-old star of the upcoming A Wrinkle in Time.
"Multiple sources" confirmed the pregnancy to both E! News and People, and an "insider" noted that no changes will be made to The Mindy Project creator's busy production schedules or upcoming projects. No additional details of her pregnancy have been revealed as of yet, but Kaling previously spoke with Yahoo! Style about her desire to start a family.
"I think I've decided that unlike everything else in my life, I'm going to be fast and loose about kids," she told Yahoo! Style in 2015. "I'm going to not actively plan, but if it happens, it would happen."
Kaling added at the time that she would consider having kids "maybe imminently," though she wouldn't have children with just anyone. "I'm not cavalier about who I would have a kid with," she told Yahoo! Style. "But the thing I ask every parent that I really admire, the one comment they all have, is that they wish they had kids earlier."