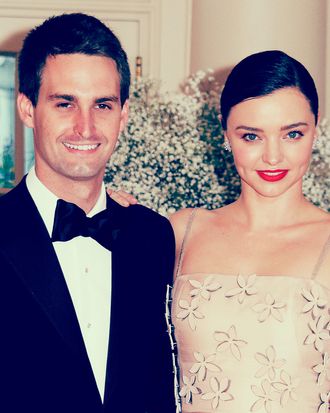 Evan Spiegel and Miranda Kerr.
Photo: Getty Images
This week, Victoria's Secret model Miranda Kerr released photos from her fairy-tale wedding to Snapchat founder Evan Spiegel. Also this week, Spiegel set sail on a "post-wedding bro trip" in Europe. Ah yes — or wait, oh no. What is a "post-wedding bro trip"?
According to "Page Six," Spiegel is currently sailing the seas with his "bro buddies" on a "super-yacht" called Joy that goes for almost $1 million a week. They are taking it from the coast of Italy to Greece.
Kerr, meanwhile, is posting her wedding-day "beauty secrets" on Snapchat-competitor Instagram.
Spiegel seems to be pioneering a new trend: My furious Google searches have provided not one other example of a "post-wedding bro trip." Fun way to disrupt the tired, lame tradition of honeymoons.