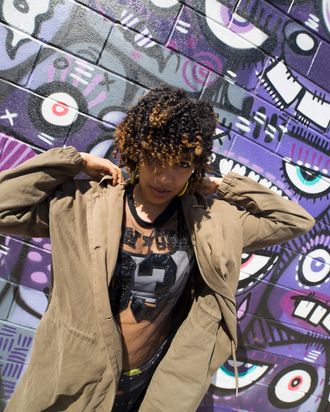 As far as I'm concerned, Brooklyn rapper Miss Eaves (a.k.a. Shanthony Exum) already won song of the summer. "Thunder Thighs," her casually confident celebration of chub rub, is the only soundtrack anyone needs to feel like a sex goddess in the thick of swamp-ass season.
Today, Miss Eaves drops another contender for summer anthem, the third single from her upcoming album Feminasty. "Fuccboi Salute" is a clever, no-bullshit, party-friendly number that sends a message to "all these little fuccbois." (The message is "fuccbois get no love," if that isn't clear.)
Miss Eaves explained the song to the Cut, "A fuccboi is a man (sometimes a woman) who is so entrenched in the patriarchy that they cannot see beyond their own needs and desires. They are not trying to be genuine, they just want to be seen as cool. We all know one, so I made mine a sock puppet because I did not want to imply fuccbois are from one race or culture," she wrote.
Watch the video she produced and bankrolled herself, in which she gathered up her friends for a house party, let them write all of the things that fuccbois have personally said to them (i.e. "nice boobs," "DTF," "sorry phone died" etc), and then let them dance it out.