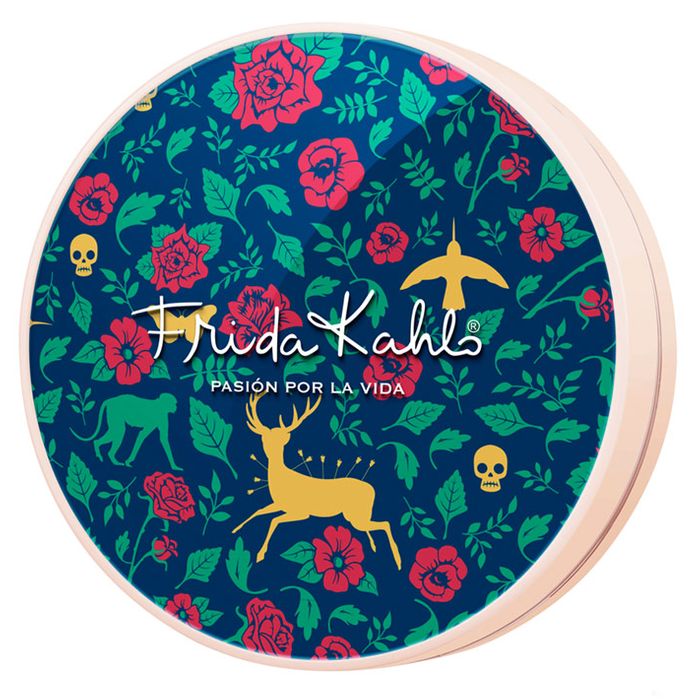 Missha Frida Kahlo Tension Pact.
Photo: Courtesy of MISSHA
If you talk to a makeup artist who is (1) talented and (2) not a sadist, you'll be advised to skip foundation during the summer. At most they might suggest a BB cream, or as Solange's makeup artist once advocated to me, one of those nifty pigment drops that you add to a moisturizer for a sheer layer of coverage. Any formula more viscous is oppressive. And it melts.
Like a good beauty student, I followed this sage advice until Missha's Tension Pact landed on my desk. It delivered a mind-bogglingly lightweight-yet-opaque level of coverage. After trying it out just once, I was ready to become a beauty-school dropout.
Tension compacts are not as ubiquitous as cushion compacts, but the two are similar. Both originate in Asia; are comprised of a lightweight, foundation-like liquid formula; and are injected with a healthy dose of SPF. While a cushion compact houses the liquid formula in a sponge, a tension compact dispenses the formula through a net similar to cheesecloth. The net is said to disperse the liquid evenly for smoother coverage. To transfer the liquid to your face, you press the compact's circular puff-applicator into the netting, and then tap the formula all over your face.
There are a lot of factors that make Missha's Tension Pact so exceptional. I guess the dispersive nature of the compact's netting is one of them. But there's also the formula, which is imbued with skin-care good-guys like hyaluronic acid, ceramides, niacinamide, and an essence — all of which moisturize skin without feeling heavy. The result is a dewy finish that doesn't look greasy. Saying that your skin looks naturally flawless after using this product might be a cliché, but it is also the truth.
In terms of coverage, the tension compact approximates a medium-coverage foundation. Perhaps due to its glut of skin-care ingredients, the formula doesn't cake into the lines around your face, and it lasts all day. Also, there are five shades to choose from, though truthfully I wish there were more.
Extra fun: For a limited time only, the case will be outfitted with pink flowers in honor of Frida Kahlo. There are actually two designs, one with small flowers, and another with bigger flowers for Missha's more intense moisturizing formula. Both include SPF 37. And both, by the way, have happily replaced my "no foundation" policy for summer.