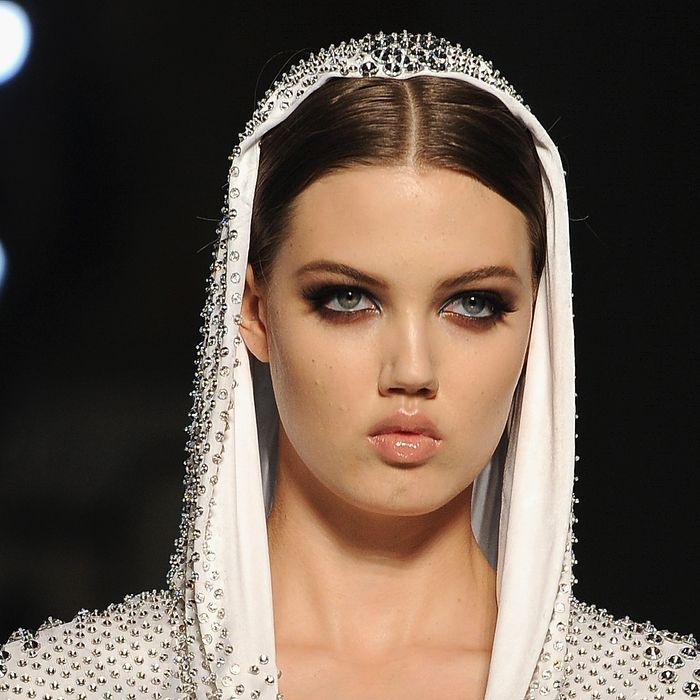 Lindsey Wixson, potter.
Photo: Pascal Le Segretain/Getty Images
Lindsey Wixson, the 23-year-old model and hero to gap-toothed girls everywhere, is doing the thing we've all threatened to do when we're frustrated at work and have had a bit too much to drink: She's quitting her job to pursue pottery.
In an Instagram post uploaded on Tuesday, Wixson wrote:
To all my fashion fans, I am sad to inform you that my injury has put me in a position to retire from this high heel business. I have an artistic side that wants to shine through. I feel that this disablility [sic] has come to me with a purpose. To show me that I must carry on. This industry has brought me so much and I am grateful for the lessons I have learned. Now more than ever I feel it is important to listen to my body and the changing times of this industry and peacefully try to move on. I ask for your support on my new endeavours [sic] with designing interiors, pottery, sculpting, carving, and inventing for the future.
The "disability" to which she is referring is a linear tear on the tendon of her big toe, an injury that prevents her from wearing the vertiginous heels worn on most runways.
Now Wixson, who has been modeling professionally since she was 15, is turning to a career in the more flat-friendly arts.
In her post, the recent retiree also tagged @wixsondesign, her new pottery business, which, according to its pictures, will sell simple, brightly decorated ceramics — the kind of mugs perfect for warming your hands with while you curl up in a blanket, sip lavender tea, and contemplate leaving your family to open a scented-candle store in Vermont.
I mean, if a 23-year-old millionaire model can quit her job to pursue her dreams, why can't we?