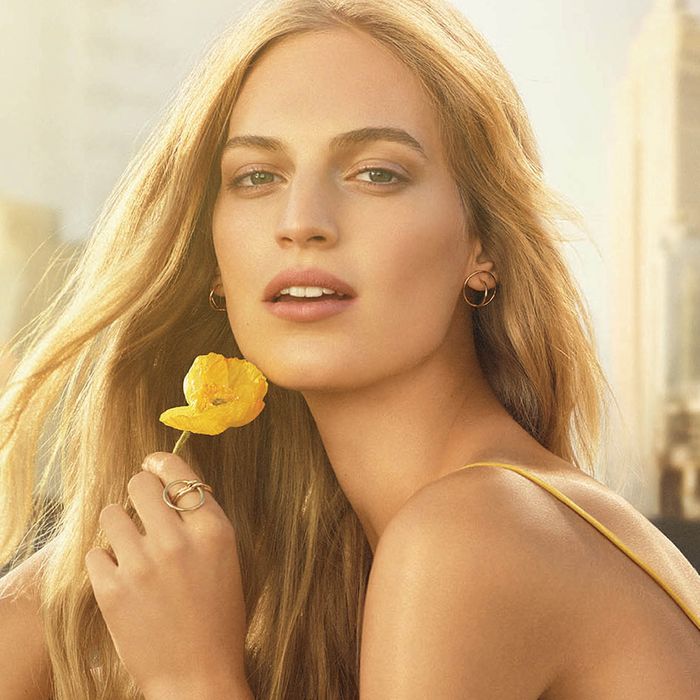 Vanessa Axente.
Photo: Gordon von Steiner/Courtesy of DKNY
At just 16, Hungarian model Vanessa Axente was opening for Prada, Céline, and Valentino. Though she's no longer a newcomer, she's now fronting campaigns like Calvin Klein and Chanel. Most recently, the model fell for a handsome stranger surrounded by rose petals on the High Line for the new DKNY Nectar Love perfume campaign. She talked to the Cut about love onscreen, Hungarian comfort food, and avoiding Seamless.
What's your nighttime skin-care routine like?
Every day, before I go to bed, I clean my face with Bioderma sensitive makeup remover. After that, I wash my face again with cold water and then I use a night serum by Estée Lauder [editor's note: It's also loved by model Martha Hunt]. I would say that's my every day nighttime routine.
Once a week, I put on a face mask for like 20 minutes. I use two different ones. One is SK-II, the other is Estée Lauder Advanced Night Repair. I use the Estée Lauder one when I travel a lot because I feel like that's supergood when my skin gets really dry.
What do you do to work out? 
I do many different things. Whenever I travel, I go to the gym, or I go to a class or I go for a jog. In New York, I do SoulCycle or Ballet Beautiful. Whenever I'm in Hungary I do badminton. It's a mix, but I always need to do cardio. I'm a very active person and I feel like I need to sweat to feel good and to sleep at night.
What was the experience of filming Nectar Love like? 
Filming the campaign was fantastic because I was working with filmmaker Gordon von Steiner and we've been working together for a really long time. He knows what I do and what I like. It's always fun. Knowing the whole team made it easier to play this role where you have to fall in love with a guy. I didn't know him, but it was shot over two days so we got to know each other pretty well. It was great. The High Line is one of my favorite places in New York. It's an easy job to do because I enjoy what I have to do.
Let's do a lightning round. What was your most popular Instagram photo?
They're always selfies but there's a portrait of me, a profile photo. I think it got almost 4,000 likes.
Who is your favorite facialist and how often do you see them?
I still go to one in Hungary. I don't see her very often but I try to see her every second or third month. It's just very good. I know it's far but it's worth it to come back to.
Who is your colorist? 
My hair is natural, so I don't color it. Luckily. The sun is my colorist.
Favorite Hungarian food?
It's from the region where I'm from, it's a venison stew and it comes with potato dumplings. It's very heavy, but very good. Hungarian food is very heavy in general.
What is your favorite restaurant and thing to order in New York?
[Laughs.] I didn't want to tell you my favorite restaurant but I will. It's a French place called MIMI. It's a tiny little place. Because I know the guys, it's easy to get a table but otherwise it's normally fully booked. It's my secret little place. They change their menu every week or every second week. So I can't really recommend anything specific.
What's your favorite thing to order on Seamless?
Unfortunately I don't do Seamless. I like to go to restaurants or cook something at home.
What's one thing you were told as a beginning model that you now look back on and laugh?
When I started modeling, I just wanted to try to see what it felt like. My mother kept telling me, "You're going to be a top model." My friends and I were just like, I don't think she knows what she's saying. So it's funny where I am now to look back on that.
What do you notice most from a first impression of someone?
When I first meet someone, their smile — if someone has a nice honest smile.
The mask is made of foil and makes you look a little like Iron Man, but you'll also look way more rested.
If you buy something through our links, New York may earn an affiliate commission.