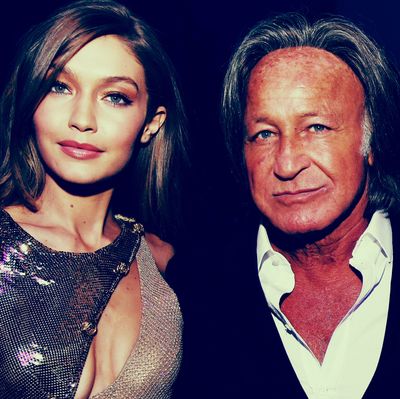 Gigi, Mohamed, and Bella Hadid.
Photo: 2016 Getty Images
Ah, the super rich. When they aren't getting married in $1 million wedding dresses or complaining about their dad being president, they're apparently off committing crimes the rest of us didn't even realize were crimes. Case in point: real-estate developer Mohamed Hadid, who was sentenced on Thursday to probation for illegally building a "mammoth mansion" in Bel-Air.
As the Los Angeles Times reports, Hadid — father of models Gigi and Bella — was sentenced to community service, must pay fines, and will have to create a plan to stabilize a hillside in Bel-Air. The sentencing comes after Hadid pleaded no contest to criminal charges over the building of a 30,000 square foot megamansion that was bigger and taller than the city allowed.
The Times notes that the mansion included bedrooms, decks, and an IMAX theater — yes, an IMAX theatre — that the city claims were never approved. Three years ago, city officials demanded that the construction on the home be halted and permits were later yanked — and yet Hadid's construction company allegedly just kept on building the behemoth mansion.
On Thursday, Superior Court Judge Eric Harmon sentenced Hadid to three years of probation, in addition to ordering the developer to pay more than $3,000 in fines, log 200 hours of community service, and repay $14,000 to the city to cover costs. He'll also have to fork over additional undecided fees, and must also hire an engineer to stabilize and "fix" the hillside. The fate of the home will be decided in another hearing later in the year.