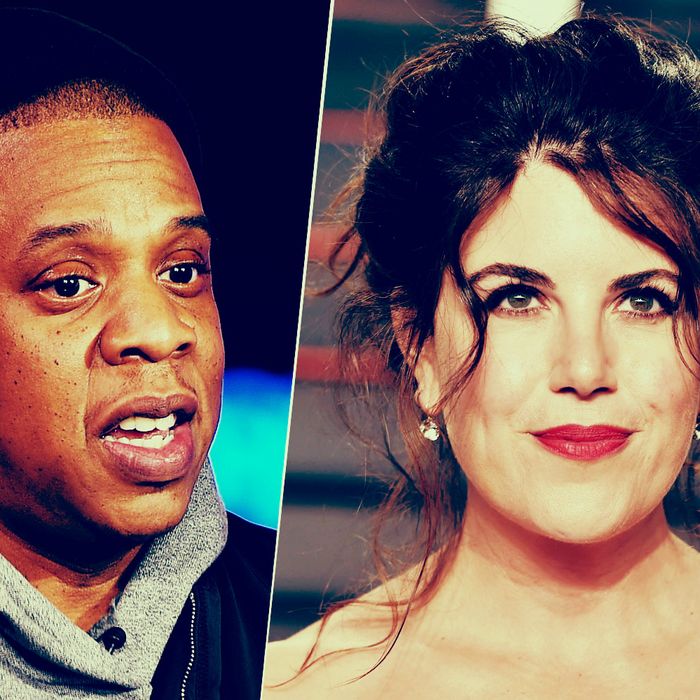 Jay-Z and Monica Lewinsky.
Photo: Getty Images
In the footnotes to his album 4:44, Jay-Z spoke candidly about the "cracks" in his relationship with Beyoncé, and now, finally, Monica Lewinsky is weighing in.
In a new Vanity Fair essay — entitled "Jay-Z, Prince Harry, Brad Pitt, and the New Frontiers of Male Vulnerability" — the sometimes-blogger and anti-bullying advocate lauded Jay-Z for speaking openly about his marital struggles.
"Jay-Z had a choice. Having been called out publicly by his wife in her fierce 2016 album and video, Lemonade, Jay-Z knew that his fans wouldn't have blinked if his next album skimmed past the allegations. That's not uncommon for men to do." Lewinsky groups Jay in with a new vanguard of male celebrities who feel increasingly comfortable displaying vulnerability in a public sphere. "Jay-Z could have ignored it all. But, instead, he chose a path of candor that will — like Brad's and Prince Harry's — move the conversation forward and help others."
This is not the first time Lewinsky has provided valuable public commentary about Carter family goings-on. When Bey sang that "he Monica Lewinsky'd all on my gown" on "Partition" back in 2013, Lewinsky was quick to correct her. "Thanks, Beyoncé, but if we're verbing, I think you meant 'Bill Clinton'd' all on my gown,' not 'Monica Lewinsky'd,'" she said at the time.
Monica, great points all around.