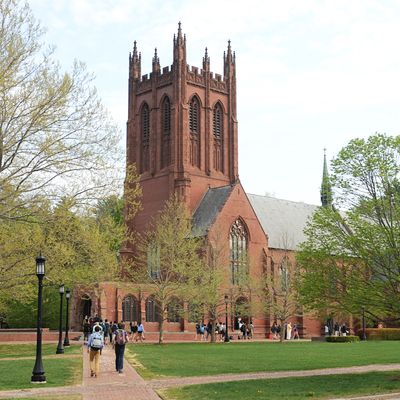 St. Paul's School.
Photo: Photo: Peter Finger/St. Paul's School
Just when you thought things couldn't get any sleazier, St. Paul's School in Concord, New Hampshire, somehow manages to surpass expectations. On Monday, the school's Rector, Michael Hirschfield, sent a letter to parents condemning a "game" male students played, in which they tracked their sexual exploits on cardboard crowns, which they then wore in yearbook dorm photos.
In his letter, Hirschfield wrote that after first learning about the practice in May, the school reprinted the yearbook page featuring the crowns. The Community Conduct Board also hired an investigator, who found that five boys had violated school rules, but not state law. Hirschfield said that the students involved had been disciplined.
That same month, the school released a report by an independent law firm, which found 13 "substantial claims" of abuse against faculty between the 1940s and 1980s.
The elite boarding school is currently under a criminal investigation by the New Hampshire attorney general, who announced last week that his office was looking into these claims, as well as a "sexual ritual" among students, which came to light during the 2015 sexual-assault trial against Owen Labrie. The tradition was known as "Senior Salute," and it involved senior students trying to have sex with as many younger students of the opposite sex as possible before graduating.
In June, Chessy Prout, Owen Labrie's accuser, responded to the crown incident in a statement to the Concord Monitor.
"St. Paul's School is operating in a bubble of denial, and their students are paying the consequences," she said. "The adults at the school are allowing this predatory behavior to happen, and the best they can do is try to cover it up with stickers in the yearbook. Real people are being harmed because of the students' irresponsible and damaging actions and the administration's inaction."