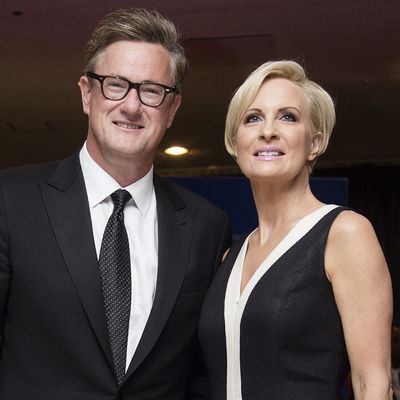 Joe Scarborough and Mika Brzezinski enjoyed a ratings boost courtesy of the president's poor self-control.
Photo: Getty Images
Last week, the president of the United States got mad while watching a TV show, so he fired off a couple of angry tweets in the direction of its hosts. "I heard poorly rated @Morning_Joe speaks badly of me (don't watch anymore)," he wrote. "Then how come low I.Q. Crazy Mika, along with Psycho Joe, came to Mar-a-Lago 3 nights in a row around New Year's Eve, and insisted on joining me. She was bleeding badly from a face-lift. I said no!"
The backlash was immediate, with Trump's female surrogates rushing to defend him from charges of overt sexism. But it turns out all the attention was good for the show, which attracted a record-breaking audience the following day.
According to the Associated Press, 1.66 million people watched the MSNBC show on Friday, June 30, narrowly beating out the show's previous viewership record, which came the day after President Trump was elected. So far this year, the show is averaging 896,000 viewers, but on Friday it even beat out one of its biggest competitors, Fox & Friends.
The AP added that Scarborough and Brzezinski "delayed a holiday vacation" to address Trump's tweets that Friday. Hey — anything for the cause.