Natalie Morales, her dog Taco, and I are walking down a street in Bushwick when she interrupts the joke she's making about buttholes to orient herself for a second. She's lived in L.A. for ten years — long enough to consider pool slides good walking shoes — but she knows she's been in this spot before. "I almost got an apartment over there!" she exclaims, and proceeds to reminisce about the huge loft and cheap rent this particular corner offered, before it offered a cactus store with $500 prickly plants.
For a moment, Morales, 32, sounds a lot like she's about to say "and then I was cast in a huge movie and I never had to consider Bushwick again." She is, in fact, about to be in a big movie — her biggest project yet. In September, Morales will star alongside Emma Stone and Steve Carell in Battle of the Sexes, the Billie Jean King biopic about the 1973 tennis match between King and Bobby Riggs. Morales plays Rosie Casals, King's fierce, rebellious doubles partner, friend, and member of "The Nine"(the first women to form their own tennis league and go on tour). But Morales is less interested in charting breakthrough moments than in making acting a steady job — and in having fun on the outskirts of fame. Her Bushwick reverie passes, and the three of us trot on toward Roberta's for pizza.
"I want to just work for the rest of my life in my industry," she tells me. "But like, your aunt, saying, 'You look familiar, are you the girl from the thing?' That's not what I care about."
Still, Morales is the exact sort of actress your aunt would say that about. Though first you might have to explain to your aunt that she's not the other Natalie Morales, the Natalie Morales from the Today Show: "Oh, brother. I've gotten, like, her baby gifts before," Morales says of her name doppelgänger. "And she's gotten my auditions. I've showed up to interviews before and they're like, 'Oh, I prepped for someone entirely different.' I'm like, 'Cool, that's great.'" The bit doesn't stop. "I've been getting on a plane before and the ticket agent takes my ticket and goes Natalie Morales! And then looks at me and goes, 'Oh, never mind. I thought you were somebody else,'" she laughs.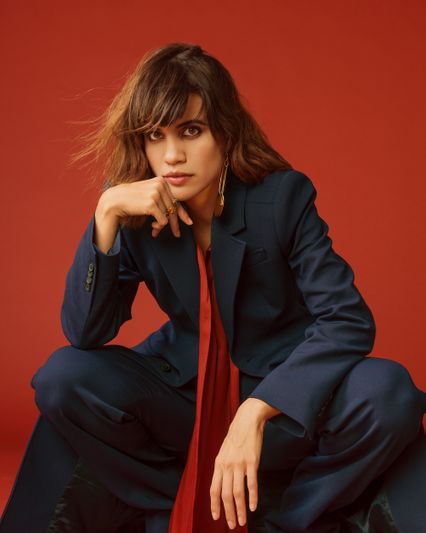 She's carved out a career of playing smallish parts on great shows. And, even when she's just playing the girlfriend, Morales is reliably memorable. Her characters are always a little nerdy, a little quirky; as devoted fan of the Buster Keaton school of comedy, she never goes for the big punch lines — instead, she'll get the laughs by staring a millisecond too long, or smiling in a slightly off-kilter way. She's managed to pull focus in episodes of Parks and Recreation, where she played Aziz Ansari's girlfriend; in a memorable guest spot during Girls season three as Desi's girlfriend, Clementine Barrios; and in roles on White Collar, Trophy Wife, and 90210. She's had big roles in two (now-canceled) sitcoms, The Middleman and The Grinder. Most recently, she played a cop on Netflix's Santa Clarita Diet.
"Oh! I was also in Wall Street 2: Money Never Sleeps," she adds. "I'm in that for five minutes! I give Shia the what's what."
A Florida native, Morales moved to L.A. in 2006 to start her career, after pursuing a double major in education and theater at the Florida International University. "I told my best friend, 'It will take us three months tops to be on TV,'" she recalls. "'Month one, we'll audition and meet people. Month two, we'll get an agent. Month three, we're on TV; it's going to be fine.'" She booked her first audition quickly, and was cast in a McDonald's commercial. "It made me go, 'Awww, this is going to be so easy.' It was not." Her first real TV gig was getting kidnapped on CSI: Miami. ("I got saved by David Caruso. It was legit.")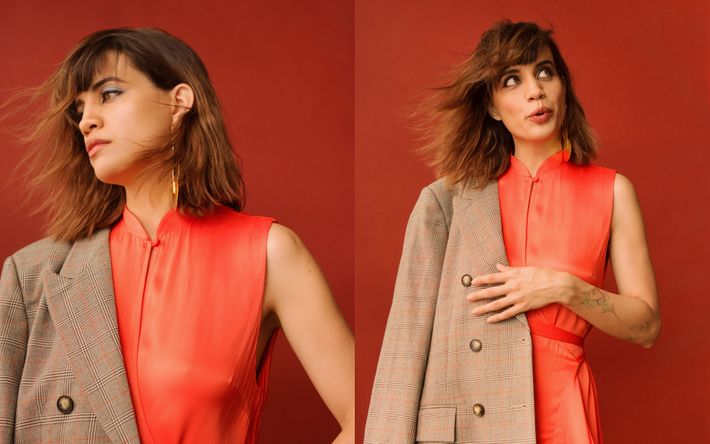 "This job is hard sometimes," she says. "It's really hard when you're auditioning; it's hard to not get work; it's hard to feel unqualified, or less than, or not pretty enough, or not tall enough, or not talented enough, or not enough." She's Cuban, but Morales also refuses to play the stereotypical "Latina" roles — e.g., maids and fiery Latin lovers — that she's sometimes offered. "But it's not hard when you're working. When I'm working, it's the best thing I have in my life."
Her slightly outside-of-Hollywood status gives her a lot of latitude to do what she wants with the fame she does have. She takes part in rallies and marches for charities she's passionate about, like Everytown for Gun Safety, an anti-gun-violence organization. Recently, she broke her own privacy protocol and shared personal details about herself, writing a thoughtful essay about coming out as queer for Amy Poehler's Smart Girls. The piece is called "Natalie Morales would like you to know nothing about her, except for one thing …" She writes: "I don't like labeling myself, or anyone else, but if it's easier for you to understand me, what I'm saying is that I'm queer. What queer means to me is just simply that I'm not straight."
She also has the latitude to maintain a sense of humor about Hollywood. For example, the Daily Mail recently reported that she was dating John Mayer, a turn of events she calls "so made-up and weird." (She and Mayer are acquaintances; "neither of us have any idea how it happened.") She responded by posting an Instagram of herself with a fake pregnant belly, captioned, "My body is a wonderland." When her show The Grinder was canceled, she posted a series of snapchats of herself sneaking onto the defunct set and retrieving souvenirs, staging it to look like a daring act of breaking and entering. The stunt got picked up by NPR.
And then there is her Instagram account. "I've noticed that all these celebrities were getting a bunch of free shit and sort of faking it on Instagram," she explains. "I was like, well, why not just, like, blatantly do it? Why not just go, like, 'Hey, I like free stuff. Don't send me a shitty thing because I'll say that it's shitty, and I'll post about it.'"
She started the Instagram account @NatalieMoralesLovesFreeStuff, and now she gets free stuff — including a fantasy novel someone has written, a public-speaking manual someone has written, chocolates from a small candy shop, a board game someone developed, and some swag from Dyson.
"It's sort of the same spirit as the John Mayer joke," she tells me. "Because I'm like, How much can I fuck with this situation? You get these platforms for these big celebrities shelling out fucking waist trainers, and I'm like, Well, I don't have that many followers, but why not give smaller businesses that same platform?"
"Excuse me." We're making our way through two Cheesus Christ pizzas when the waitress interrupts us. I get ready for Morales to be recognized — based on the septum ring, I'm guessing from Girls.
But no: "Is that a service dog?" she asks, gesturing to Taco, who is sleeping under the table at Morales's feet.
Morales, appealingly low-key in her attitude toward life as a working actress, shows no flicker of disappointment or surprise or anticipation of selfie request — just a little nervousness, as she explains that Taco is in fact a comfort dog, and so allowed inside with us. She asks for the rest of her pizza to go. Then we walk back to the cactus store to make fun of the fact that neither of us could afford a $500 prickly-pear cactus.
Lead image: Diane von Furstenberg Bias Midi Dress, $368 at DVF, Tibi Earrings, $190 at Tibi.
Photos by Matthew Priestley, styled by Lindsay Peoples. Produced by Biel Parklee. Hair by Kiri Yoshiki using Living Proof. Makeup by Heather Schnell using Chanel Les Beiges at Exclusive Artists.