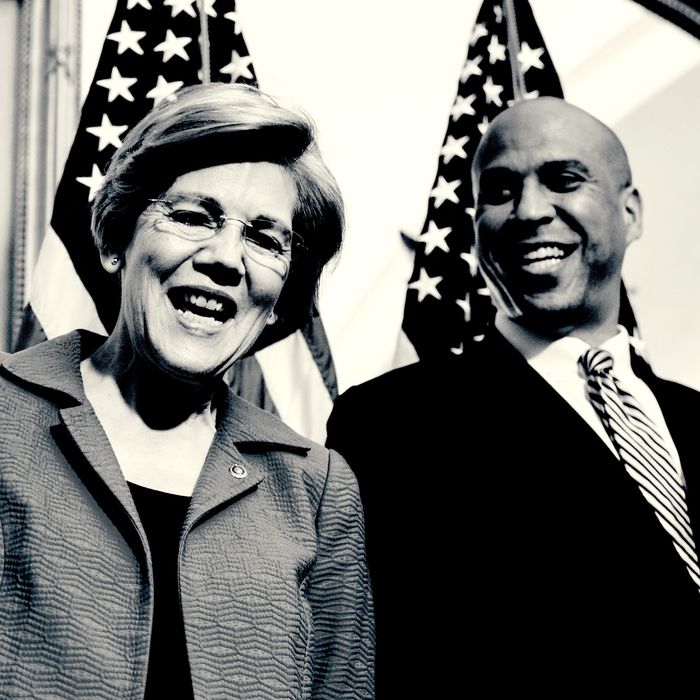 Elizabeth Warren and Cory Booker were among the bill's sponsors.
Photo: Getty Images
On Tuesday, four Democratic senators announced a bill that seeks to reform the way women are treated in federal prison. Senators Cory Booker and Elizabeth Warren held a joint press conference to introduce the Dignity for Incarcerated Women Act, which Senators Kamala Harris and Dick Durbin are also co-sponsoring, according to HuffPost.
The bill would require federal prisons to supply women with free tampons and pads, would prevent pregnant women from being shackled or placed in solitary confinement, and would extend inmates' visiting hours with their children.
It would also let mothers physically interact with their kids more during visits, as well as place free phone calls to them while incarcerated. And, perhaps most importantly, the Federal Bureau of Prisons would have to consider the location of an inmate's children when deciding where to place her in the first place.
According to the Sentencing Project, the number of women in prison has skyrocketed over the past decade, from about 26,000 in 1980 to more than 200,000 in 2014. And although the majority are held at the local level, this bill would benefit the more than 12,000 women currently held in federal prisons.
In announcing the bill, Booker called for women prisoners to be treated like human beings. "We need to create a prison that, yes, is holding people accountable, and yes, is allowing people to pay their debt to society for mistakes they have made, but also is about the dignity of humanity," he said.