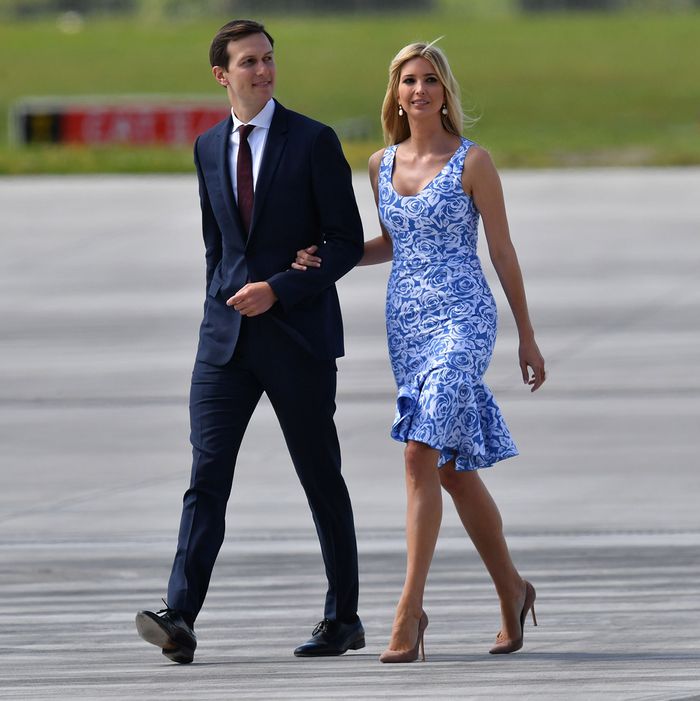 Jared Kushner and Ivanka Trump.
Photo: BERND VON JUTRCZENKA/AFP/Getty Images
Ivanka Trump made her first financial-ethics disclosure on Friday night shedding light on the Trump family's often cryptic personal finances. The disclosure also offers insight into the profits of Trump's eponymous fashion line, which has recently been criticized for its labor practices.
Ivanka Trump's husband, Jared Kushner, also updated his report to the U.S. Office of Government Ethics. His new form shows dozens of "inadvertently omitted" assets due to an "administrative error." (Kushner has also, of course, failed to disclose meetings with foreign officials, including the Russian lawyer Natalia Veselnitskaya.)
Here is what we've learned according to reports in the New York Times and The Wall Street Journal:
— Ivanka Trump or her trust earned $12.6 million since the beginning of 2016. Going forward, she will get $1.6 million in fixed payments from her various business ventures per a plan developed with the Office of Government Ethics.
— Although she officially stepped down as CEO of her fashion brand in January, she continues to profit from the company. Over the last year-and-a-half, Ivanka Trump or her trust, made at least $6 million in sales from her clothes, shoes, and accessories.
— Trump received a $787,500 advance for her book Women Who Work, although it's unclear if this is the entire advance.
— She also earned $50,000 for managing the trust of some of the children of 21st Century Fox, News Corp., and Fox News owner Rupert Murdoch. (Trump is close friends with Murdoch's ex-wife, Wendi Deng Murdoch.)
— Jared Kushner's new disclosures show that he and Ivanka Trump hold between $206 and $760 million in assets, which include real estate, bonds, a personal art collection worth $5 million, and a New Jersey liquor license.
— According to the filing, the couple made $212 million in income since the beginning of 2016, primarily from Kushner's holdings.
But despite concerns raised by some over possible conflicts of interest, the couple and their respective lawyers insist everything is above board. Lawyer Jamie Gorelick, a partner at WilmerHale who is advising the couple, told the Times:
Jared and Ivanka have followed each of the required steps in their transition from private citizens to federal officials. The Office of Government Ethics has certified Jared's financial disclosure, reflecting its determination that his approach complies with federal ethics laws. Ivanka's financial disclosure form is still in the pre-certification stage, as she began the process later, but discussions with O.G.E. are proceeding in the ordinary course.