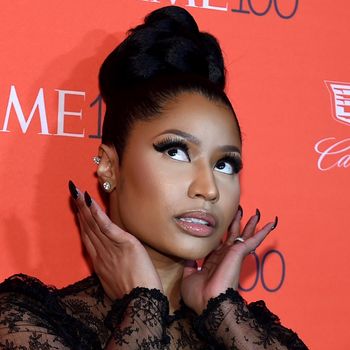 Nicki Minaj.
Photo: TIMOTHY A. CLARY/AFP/Getty Images
Drop what you're doing. Quit your job, break up with your partner, drop your kids off at your mom's house, do whatever it is you need to do to in order to be able to devote yourself fully to the problem at hand. Nicki needs us.
On Sunday, the rapper, mogul, model, and philanthropist finally decided to post her first Snap, even though she downloaded the app back in May. Unfortunately for all of us, she couldn't quite figure it out.
"Yo can y'all teach me how to use this?" she asked in a caption on Instagram, "wtf I wanna show y'all how a bad btch posts her first snap but …" Apparently the people of Instagram were not as helpful as they could be, because her confusion only escalated from there.
"Dis tew much. I'm bout to delete this shit," she commented on the same post, "Is mine public? How do I see how many ppl r following me? How do u delete the thing u recorded if u don't wanna post it? I just recorded my towel mad times btch help wtf." Coincidentally, this is almost an exact transcript of the email my dad sent me when he first got Facebook.
After posting another video asking fans to stop calling her because she couldn't access her settings, Nicki was finally triumphant. She snapped a picture of the ocean with the caption "First snap who dis?"
We have yet to see any indication that Nicki has discovered the filters yet, which is a huge disappointment given that she is basically a sentient Snapchat filter. So, again, please — go help. Nicki needs us.