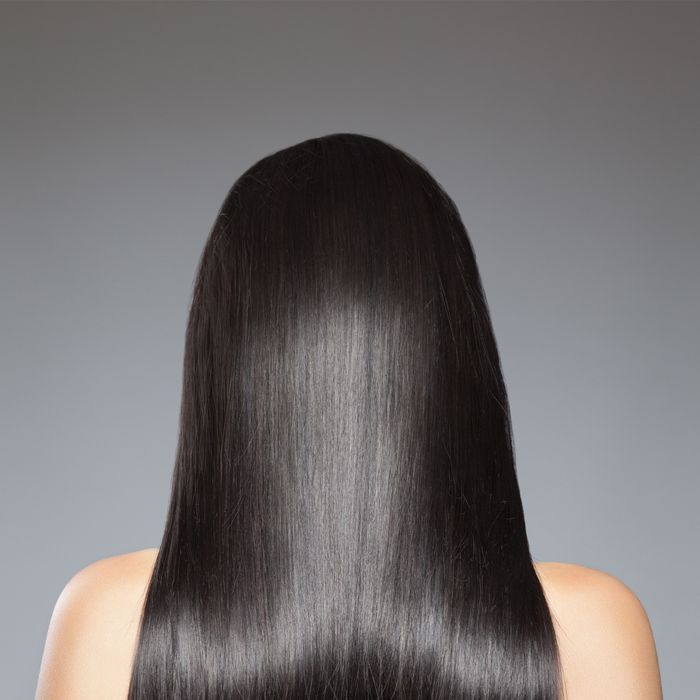 Photo: AND-ONE/Getty Images/iStockphoto
Occasionally, while running the endless marathon of personal upkeep known as vanity, I chance upon a beauty treatment that fundamentally improves my quality of life. It then becomes my duty as a lady-journalist to share this discovery, like a cave woman bringing the first blazing branch back to her clan. Fire! Warmth! Light! That's what this hair treatment is like in my life. It could be this way for you too.
My hair: dyed, fine and wavy, with a stubborn, all-weather halo of frizz. It only behaves when blown dry and embalmed with serums, finished off with a few wraps around the curling iron. A good hair day requires time I rarely choose to spend enabling it. Most days I just twist my hair into a bun. I'd heard about keratin treatments for years, but was wary of the chemicals (and the respiratory risk it posed to the stylists in the salons). Also, 20 years ago I tried a deadly Japanese relaxer that destroyed my hair shaft and forced me to cut off all my hair. So, when Lucille Javier, my colorist at Sally Hershberger, suggested I have the type of hair that responds well to keratin, I was skeptical. I did some research and settled on a very particular process called Magic Sleek.
Performed by a funny, long-haired man named Ty Holbrook at the Serge Normant salon in Chelsea, Magic Sleek takes about three hours and is nothing like what you expect a keratin to be. For starters, Magic Sleek doesn't include formaldehyde, so Holbrook didn't have to wear a mask. He was free to tell me all about how he treated James Franco's curls while Franco was shooting a movie in the humid NYC summer heat, or how he's transformed Sarah Jessica Parker's routine by making it much faster to get her hair camera-ready. Apparently the formula is made from plant extracts "found in the Amazon rain forest" as well as tannin oil, which is an element widely used in tanneries to leave leather waterproof, soft, flexible, and unbreakable.
The process involves a shampoo first, then a spray all over your head and Holbrook's patient, methodical ironing out of your hair in small sections. He runs the iron over each portion as many times as he needs to, monitoring closely so he achieves just the right amount of de-frizzing but not so much that your hair will end up flat. Unlike other keratin treatments, there's no three-day waiting period for washing your hair — you can even get it colored right after the treatment. This is important because, in my case, the heat of the flat iron mixed with those potent, Amazonian-mystery-plant-extracts took my hair about two shades lighter than it had been. I think that's because I dye my hair, and the Magic Sleek takes some of the dye out. But it didn't matter because I was able to correct the color immediately. The only rules: no chlorine, salt water, or bleach on your hair for one week.
The process lasts up to six months and I have already marked my calendar for the next one. For the first time in my life, I have smooth, shiny hair that just … falls. Since middle school I've admired the girls who could run their fingers through their roots and casually flip their parts from side to side, their individual hairs settling back into place with the ease of sand slipping through an hourglass. No snaggles. No fuss. No ornery waves wiggling out of ponytails, or licking the base of the neck. This is me now.
On my recent vacation at the beach, a place known for producing salty, ratty "beachy waves" (some people like this, I have been told), I brought just shampoo, conditioner, and a brush. Imagine this. No blow-dryer, no flat iron, no curling iron. No tubes of finishing cream, no de-tangler. The process starts at $200, so it's definitely a "treat yourself" type of indulgence, but I know many women who spend $40 a week on blowouts, and this means you no longer have to spend that hour of your life each week in a salon chair. If that's not life-changing beauty, then I don't know what is.
For Magic Sleek treatments contact:
Serge Normant at John Frieda Salon, 336 West 23rd Street; 212-879-1000 Ext. 2.
If you like it the old-fashioned way, here's some products I have used and loved:
If you buy something through our links, New York may earn an affiliate commission.