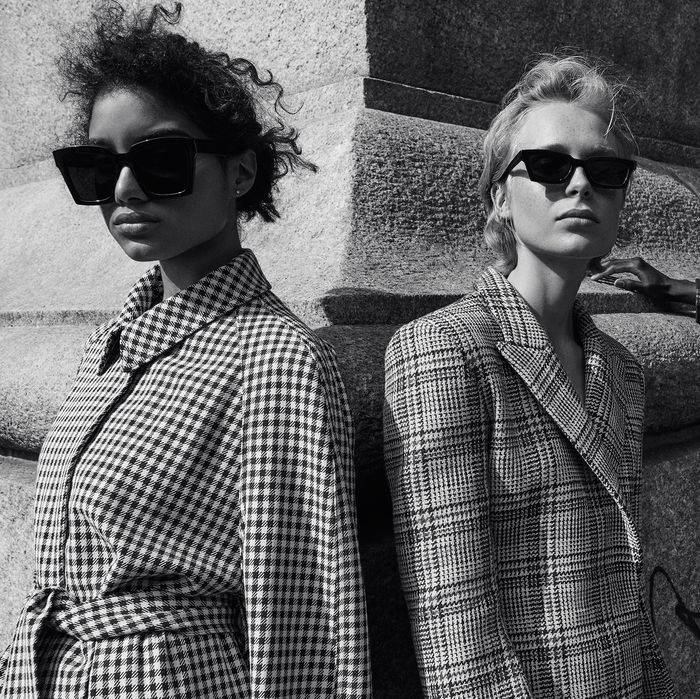 Photo: Courtesy of Warby Parker
Yesterday, Warby Parker launched their latest sunglasses collaboration with Off-White and the sunglasses quickly sold out within a few hours. Well, if you didn't get a chance to buy them yesterday, act fast — they're back in stock with very limited quantities.
If you missed all the hype yesterday, here's a quick breakdown: The eyewear brand worked with Virgil Abloh on a simple but genius concept — design a sleek pair of unisex black sunglasses but offer them in three different sizes. There's the small, '90s-inspired frame that you've seen all over Instagram. For the Goldilocks shopper who wants something that's neither too big nor too small, the collab offers a medium pair that looks very similar to your classic wayfarer. Should you consider yourself the dramatic type, you'll gravitate to the largest option. Regardless of your personal preferences, all three are going for $95, so scroll ahead to check them all out.
Photo: Courtesy of Warby Parker
You only need to look at photos of Bella Hadid, Selena Gomez, and Rihanna (to name a few) to conclude that tiny frames are having a moment, so here's your chance to get in on the trend.
Photo: Courtesy of Warby Parker
These are the most classic of the three, if you want a safe purchase you can wear for a long time.
Photo: Courtesy of Warby Parker
Due to their cool, oversized shape that looks especially striking in photos, these were the first to sell out so if you want the most popular style, these are it.
Update 2:40 p.m.: We said it'd go fast and it did — as of 2:30 p.m., they're sold out again. But don't despair — here are a few other all-black styles available at Warby Parker that might scratch your itch.
If you buy something through our links, New York may earn an affiliate commission.