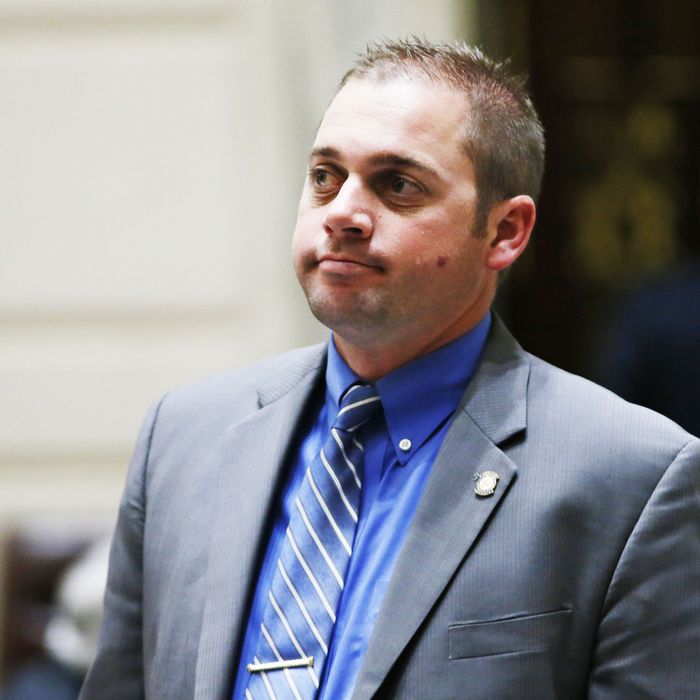 Bryce Marlatt is a Republican state senator from Oklahoma.
Bryce Marlatt, a Republican state senator in Oklahoma, has been accused of sexually assaulting a female Uber driver. According to a police report obtained by KFOR News, the driver picked Marlatt up around 10 p.m. on June 26 to take him to a hotel in Oklahoma City. During the ride, she said Marlatt "was grabbing her forcefully and kissing [her] on the neck while she was driving."
She dropped him off at the hotel at 10:36 p.m. and reportedly went to a nearby bar, where she pieced together Marlatt's identity through information she found online. Two days later she approached an officer at an intersection and told him about the incident, adding that she was "unsure [of] what she needed to do" but wanted to press charges.
Marlatt's attorney said the senator was "shocked and surprised" by the driver's claims and "has asked his legal counsel to work with Uber to get to the bottom of this." Meanwhile, an Uber spokesperson said in a statement that the incident described is not tolerated by the company. "We … are working with the Oklahoma City Police Department to provide them any information that would be helpful for their active investigation," she added.
Marlatt, who's 37, has served in the State Senate since 2008; he represents District 27, in western Oklahoma. He did not respond to BuzzFeed News' request for comment and has so far not been arrested.