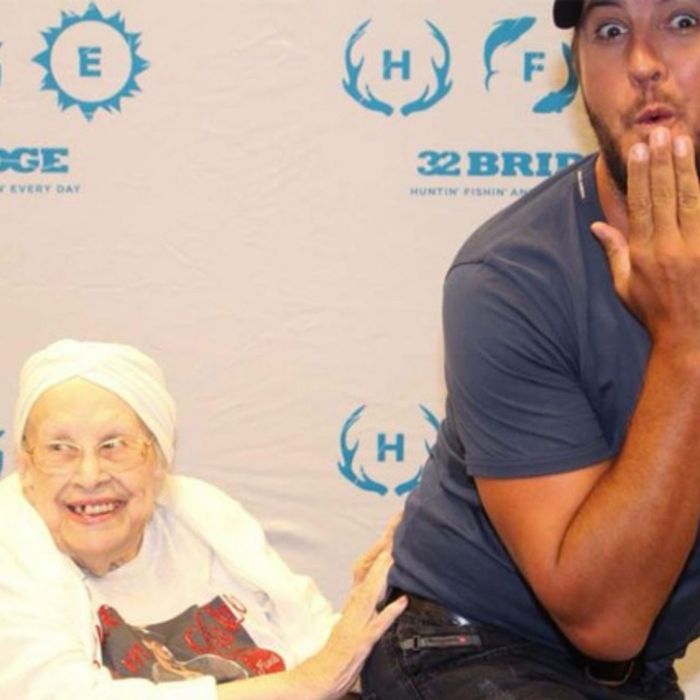 Frances Stanaway (left), Luke Bryan (right).
Photo: Courtesy of lukebryan.com
This year's Horny Time was previously forecasted to be the horniest yet, and it's certainly living up to the hype. Take, for instance, terminally ill 88-year-old Frances Stanaway of Chesterfield, Illinois, who recently fulfilled her dying wish of grabbing the butt of country singer Luke Bryan.
As People reports, Bryan had a very strict and oddly specific "no butt-touching rule" prior to meeting Stanaway at a concert in Kansas City, Missouri. You see, Bryan apparently has a great rear-end, and horny fans have a tendency to grab it without his consent. But, he decided to bend the rule for Stanaway, with whom he had coordinated a special meet-and-greet before the show through her hospice.
The elderly woman, her son, and her daughter-in-law met the singer during a meet-and-greet before the concert, which is where the butt-grabbing went down. Stanaway also gave Bryan a bag of his favorite Lay's potato chips and a can of Topsy's popcorn as a birthday present (he recently turned 41).
Stanaway told KSHB that she likes "all" of Bryan's songs and "the way he keeps up with his music," but most importantly, she thinks he's super hot (she replied, "Oh heavens, yes!" when asked if the singer was handsome). The Horny Time comes for us all.