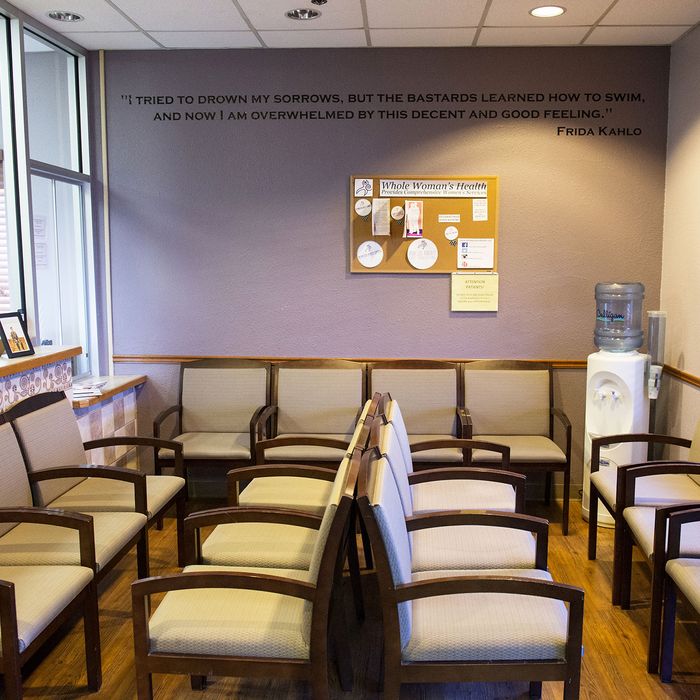 There are thousands of Crisis Pregnancy Centers in operation around the country.
Photo: © 2016 Bloomberg Finance LP/Getty Images
In 2015, a yearlong undercover investigation of crisis pregnancy centers in California found that, in 91 percent of cases, women posing as visitors were told that getting an abortion would cause breast cancer, miscarriages, infertility, or depression that could lead to suicide (all untrue). If these women told CPC employees that they lived in an abusive situation or had no family support, they were told to go through with their pregnancies anyway. And in one case, a CPC worker told an investigator that, "in order to not get pregnant, it would be best to stop whoring around."
Following the report, California passed a law preventing CPCs from lying to patients about abortion. But there are still thousands of crisis pregnancy centers all around the country that aren't bound to such restrictions. Which is why Lady Parts Justice League, a collective founded by The Daily Show co-creator Lizz Winstead, has partnered with more than a dozen reproductive-rights organizations to launch a campaign exposing them.
On its website, the organization offers three ways people can flag CPCs: by boosting honest reviews online, by calling a CPC and then leaving a review on its Yelp page or a similar website (you can choose one on the site's handy map, and there's even a phone script for you to follow), or by protesting at a CPC that's close to you.
"Most people don't even know these CPCs exist," Windstead told the Cut. That's dangerous because "when and if you want to raise a family is one of the cornerstones of having control over your economic destiny, so when these fake clinics deceive women, they're not only preying on women, but on the economic destiny of their families." The campaign's full informational video is below.