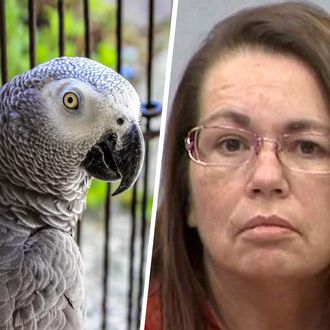 Parrot, Glenna Duram.
Photo: Getty Images
In May 2015, Martin Duram was shot to death in his Michigan home. On Wednesday, his wife Glenna was found guilty of his murder. But what stands out in this case is someone who may have witnessed the killing take place: the victim's pet parrot.
Duram's ex-wife, Christina Keller, took ownership of Bud, an African grey, following his death. Although Bud never appeared in court himself, Keller relayed that Bud had once repeated, "Don't fucking shoot!," something she believes he picked up the night of his previous owner's murder.
Duram's mother, Lillian, added that Bud "picks up everything and anything, and it's got the filthiest mouth around." Still, the parrot's comments were not entered as evidence in the trial.
Duram's sentencing will be on August 28 and, regardless of the outcome, this would make one hell of a Dateline episode.