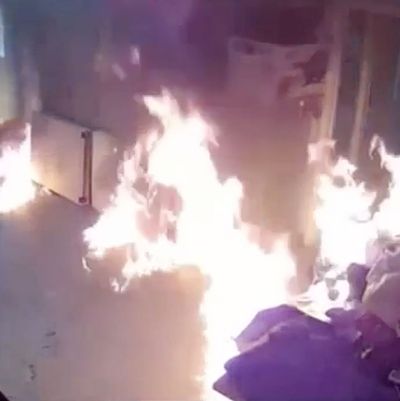 A still from the video of the fire.
Photo: Courtesy of Phoenix Fire Department
An LGBT youth center in Arizona was completely destroyed two weeks ago by a fire investigators initially believed was an accident. But on Wednesday, the Phoenix Fire Department announced it was now investigating the incident as arson, after discovering a video that shows a man emptying a gasoline can on the premises and setting it on fire.
As the Arizona Republic reports, the video shows a man in khaki shorts and a blue shirt strolling up to the Phoenix youth center — which is run by a group called One N Ten — while carrying a red gasoline can around 11 a.m. on July 12. He then enters the premises, pours liquid all over the floor, and steps outside shortly before the room goes up in flames. The Phoenix Fire Department has identified the suspect as 26-year-old Darren William Beach Jr., who the Washington Post reports was recognized by One N Ten staffers as someone that previously sought the group's services.
The organization told the Post it was "sad to report" that it recognized Beach after seeing the video, as he had used the center's services on and off for nearly three years until he "aged out"at 25. The center's staff apparently was last in contact with him a month ago, and he reportedly sought help from other groups in area. "This news hurts. Obviously this young man has issues and needs help," executive director Linda Elliott said in a Wednesday news conference.
Although no one was hurt in the fire, the youth center was utterly destroyed by the suspected arson, according to the Post. Elliott said she doesn't believe the arson was a hate crime, but she does believe it will have a traumatic effect on many of the youth serviced by the organization. "Many of them knew this young man, and this is their safe place," Elliot said. "Someone comes and burns it down … that's traumatic."
The group has opened a temporary location to provide service, but plans to move to a new location in September, the Post reports.