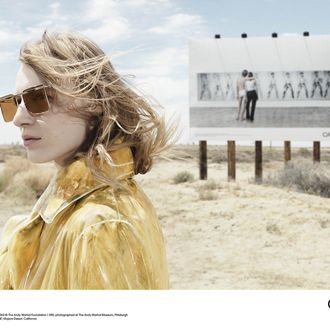 So meta.
Photo: © 2017 Willy Vanderperre
Everything old is new again in Raf Simons's latest campaign for Calvin Klein's fall 2017 205W39NYC collection. The ads, shot by photographer Willy Vanderperre, show models wearing the quintessential plastic-coated fur coat, steel-toed leather boots, and Calvin's signature underwear amid California's desert landscape. They pose in front of billboards featuring last season's American Classics campaign, which featured quintessential works by Andy Warhol, including Elvis (Eleven Times) and Skull.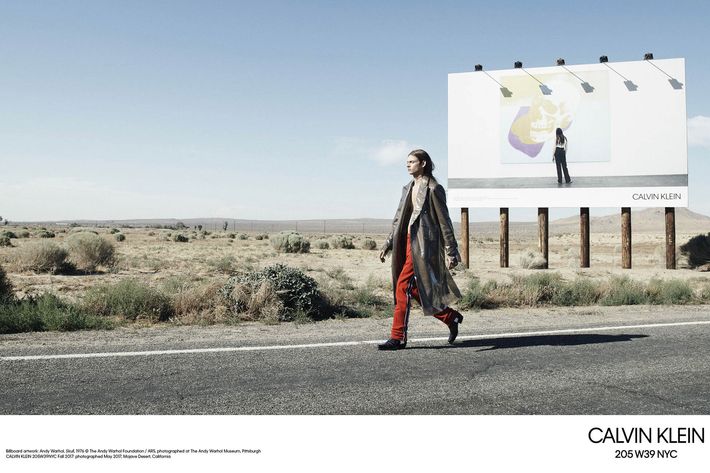 For Simons and creative director Pieter Mulier, the choice to "recycle" images from last season's campaign was an effort to explore the juxtaposition of high and low — a commentary on an outsider's romanticized vision of America. The faded photography and desolate landscapes, coupled with Warhol's quintessential pop art, evoke American nostalgia.
The fall 2017 collection is inspired by a mix of marching-band uniforms, power-broker tailoring, and Western wear. It includes the label's newly launched denim line Calvin Klein Jeans Established 1978, whose pieces will be emblazoned with a patch inspired by Richard Avedon's iconic 1981 photo of Brooke Shields. See more images from the campaign below.