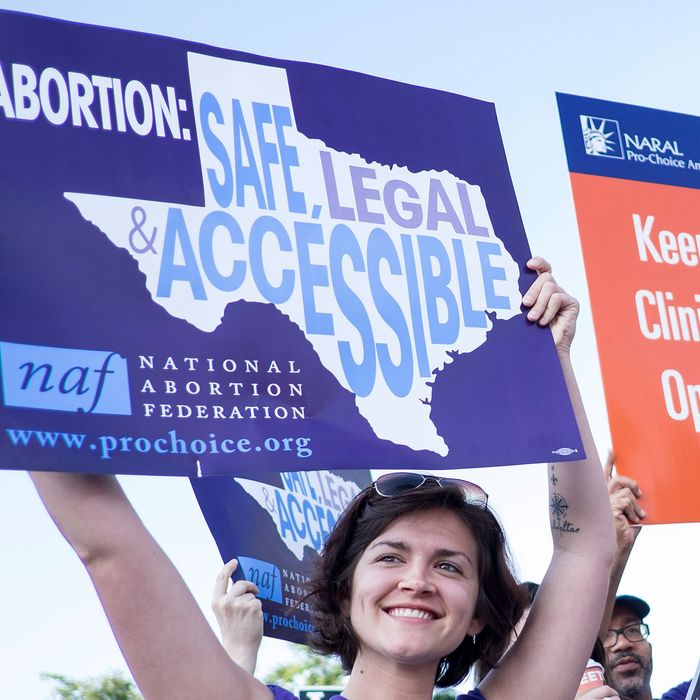 Pro-choice protesters.
Photo: 2016 Getty Images
In early June, Texas governor Greg Abbott signed Senate Bill 8, or the "Pre-Born Protection and Dignity Act," into law. Among other things, the law attempts to curtail abortion in Texas by outlawing dilation and extraction, or D&E abortions.
Pro-choice groups lobbied hard to keep SB8 from passing, but now that it has, they're mounting a legal challenge. On Thursday, Planned Parenthood, Whole Woman's Health, and the Center for Reproductive Rights filed a lawsuit in federal district court challenging SB8's D&E abortion ban.
The suit argues that the D&E ban imposes an "undue burden" on women because it requires them to go through "unnecessary, invasive, and potentially painful medical procedures, in order to access their constitutional right to abortion." Amanda Williams, the director the Lilith Fund — a nonprofit group that helps low-income women pay for abortions — told the San Antonio Current that the ban will impact low-income women the most because many can't scrape together the $500-1,500 for an abortion until they've reached their second trimester. "Our main concern is that this could completely push abortion out of reach," she added.
The law also makes performing a D&E abortion, one of the safest and most common ways to end a pregnancy in a woman's second trimester, punishable by up to two years in prison. Some lawmakers feared that SB8 could implicate anyone remotely connected to the procedure, but the D&E ban specifically says that "an employee or agent acting under the direction of a physician … or a person who fills a prescription or provides equipment" can't be prosecuted.
The lawsuit comes just a few months after the first anniversary of the Supreme Court's decision in Whole Woman's Health v. Hellerstedt, which said that Texas's attempts to regulate abortion clinics placed an "undue burden" on women seeking abortions.