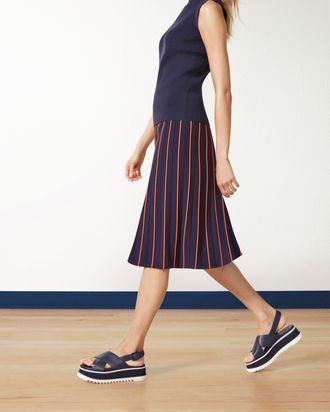 Some clothing is so wrong that it has to be right. In Why Do I Like This? we work through all the feelings that come with finding love in the least likely of places.
The other week I walked into our editorial director Stella Bugbee's office wearing a new skirt. It was made of navy stretch knit, shot through with tomato-red stripes, and I'd paired with a black sleeveless turtleneck and gold flat sandals. I didn't think she'd notice it, since it was very much my style: sleek, simple, not too colorful. So when Stella paused to compliment the outfit, I made her play a guessing game until she figured out the designer. Was it Everlane? Some obscure Uniqlo collab only available in Europe? Nope — Tory Burch's other line, Tory Sport.
I've always admired Tory Burch's pieces both for her main brand and her sporty line: They're fun, they don't take themselves too seriously, and they look stylish on the countless women who are able to pull them off. But I'm born-and-bred New Yorker who has a closet full of strange Japanese brands — which is the opposite of preppy. So, I compartmentalized the brand as something I'd recommend to friends who were a little bit more likely to play tennis or spend summer in the Cape.
But one afternoon when I was browsing the brand's sport site, I stopped for a brief moment on this skirt, courtesy of its styling. Everything seemed so right for me: I owned a very similar top and I happened to have flatforms too. The look wasn't anything you'd mix with Lilly Pulitzer — the only nod was in the form of the red stripes, but it otherwise felt very minimalist. I was hooked.
Now that I own the skirt, I'm happy to say that I've copied the entire outfit head-to-toe on days when I don't want to think too hard. An added bonus? Since it's from Tory's sport line, it's actually super soft and can withstand my sweaty body on the hottest day. So yeah, the brand might not be "me" but sometimes you find love when you're not looking for it.
More Preppy Skirts We Love
If you buy something through our links, New York may earn an affiliate commission.