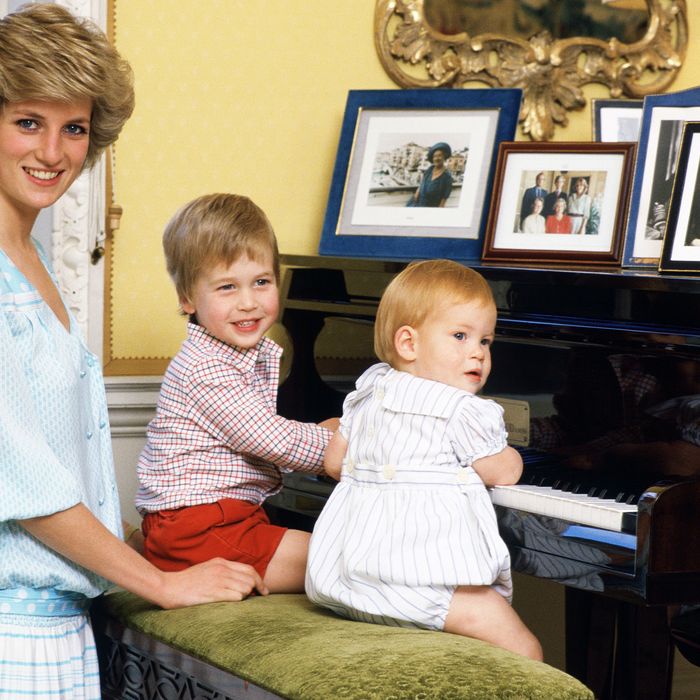 Princess Diana, Prince William, and Prince Harry at Kensington Palace, 1985.
Photo: Tim Graham/Tim Graham/Getty Images
For the first time, Prince William and Prince Harry open up about the last time they spoke with their mother, Princess Diana, in a new HBO documentary marking the 20th anniversary of her death.
"I can't necessarily remember what I said but all I do remember is regretting for the rest of my life how short the phone call was. If I'd known that that was the last time I was going to speak to my mother, the things I would have said to her," Prince Harry, who sought therapy in his 20s to deal with the grief, says in the film.
"Looking back at it now — it's incredibly hard. I have to deal with that for the rest of my life: not knowing that it was the last time I'd speak to my mum, how differently that conversation would have panned out if I'd had even the slightest inkling that her life was going to be taken that night."
Prince William, who also spoke with his mother the day she died, says he has never forgotten the call.
"The very last memory I have is a phone call from Balmoral," Prince William says. "At the time, Harry and I were running around, minding our own business, playing with our cousins and having a very good time. Harry and I were in a desperate rush to say 'Good-bye, see you later, can I go off?' If I'd known what was going to happen, I wouldn't have been quite so blasé about it. That phone call sticks in my mind quite heavily."
The royals also recount stories of their mother's "naughtiness" in the documentary.
"Our mother was a total kid, through and through," Harry says. "One of her mottos to me [was] 'You can be as naughty as you want — just don't get caught.'"
Prince William says Princess Charlotte and Prince George have been told all about "Granny Diana," and he jokes she would have been a "nightmare grandmother."
"She'd come in probably at bath time," Prince William laughs, "cause an amazing amount of scene, bubbles everywhere, bath water all over the place, and then leave."
Diana, Our Mother: Her Life and Legacy, premieres July 24 on HBO. Watch the trailer below.