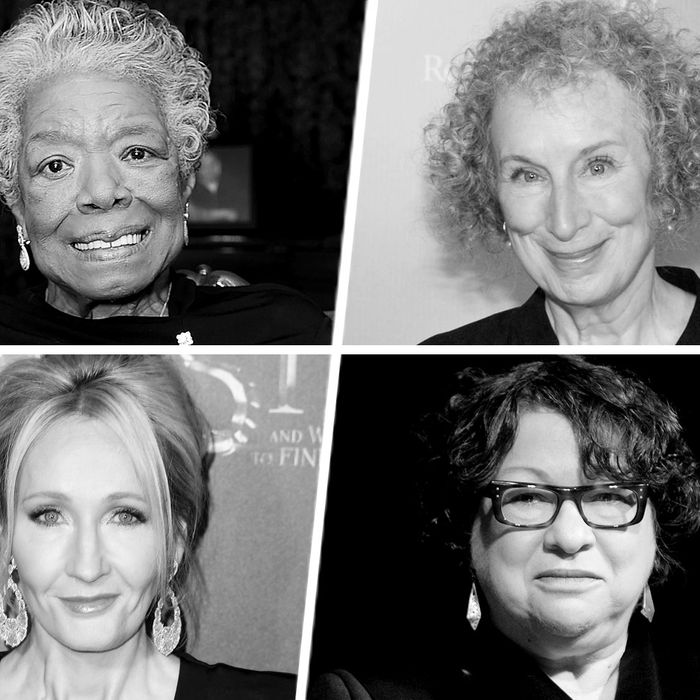 The long, hot days of summer can be perfect for plowing through novels on the beach, revisiting nostalgic favorites (e.g. a trip back to Hogwarts), or delving into classics that you've always planned to read. Below, 25 famous women from Zadie Smith to Hillary Clinton share the authors and books that made a significant impact on their lives. Read on for recommendations on what to add to your summer reading list.
Zadie Smith
"Middlemarch by George Eliot. A work of genius. But more important — and from a purely selfish point of view — a woman wrote it. That might seem ridiculous to male writers, but a man never has to think twice about the gender of genius. He's got too many examples on his side of the fence. Eliot was the first woman I read who could go toe-to-toe with, say, Tolstoy. I was 15. Since then, I've learned how many grand achievements in the novel have been female, but when I was a teenager, that was news to me."
—O, The Oprah Magazine, October 2005
Emma Watson
"My dad read me The BFG by Roald Dahl when I was younger. I'm really fond of that book. Le Petit Prince [by Antoine de Saint-Exupéry]. I like books that aren't just lovely but that have memories in themselves. Just like playing a song, picking up a book again that has memories can take you back to another place or another time." —Time, November 2010
Issa Rae
"Everyone says this book, so I feel — are you going to guess? Guess. Guess the book. Do people say The Alchemist [by Paulo Coelho]? That one is a really powerful book. That made me feel like, okay, there's a purpose here and there's a path for me. Even if I get derailed, I'm going to come back to that same path. And, so, really, the stress is stupid, because, ultimately, even if you're out walking the desert, you'll get that water. It's going to come. If it's meant to be, it's going to be." —The Huffington Post, April 2015
J.K. Rowling
"Emma by Jane Austen. Virginia Woolf said of Austen, 'For a great writer, she was the most difficult to catch in the act of greatness,' which is a fantastic line. You're drawn into the story, and you come out the other end, and you know you've seen something great in action. But you can't see the pyrotechnics; there's nothing flashy." —Oprah, June 2014
Eva Chen
"Too many to name but The Age of Innocence is so poetic and has stuck to me years after reading it in school … and Hunger Games and Harry Potter :)" —Reddit AMA, 2015
Judy Blume
"Them by Joyce Carol Oates. I had two small children. They were playing in the backyard sandbox. It was summer. Bath time came and went, suppertime came and went. But I could not put down this book. It was unlike anything I'd ever read. When my then husband came home and found me reading and the children still playing outside, he was not happy. But I was." —Medium, May 2016
Elizabeth Gilbert
"If I can take just one book, to the proverbial desert island? Leaves of Grass, by Walt Whitman. I would spend the rest of my life memorizing it. Then I would walk around the island chanting Song of Myself forever. Not a bad way to live out your days on a desert island." —elizabethgilbert.com, August 2014
Nora Ephron
"I was in the middle of reading Elizabeth Strout's Olive Kitteridge the day Strout won the Pulitzer Prize, and I almost felt I'd won a prize too. This is a magical, powerful book — 13 stories linked by a completely problematic, prickly, complicated woman named Olive Kitteridge. I loved it so much that when I finished reading it, I started at the beginning and read it over again." —The Daily Beast, August 2009
Margaret Atwood
"Riddley Walker by Russell Hoban. A personal favourite. Written in the Future-English of a post-apocalyptic British teenager. The apocalypse has been atomic, as they once were. Young Riddley is on a quest, as his riddle-based first name and his ambulatory last one would suggest. A puppet show featuring Mister Clevver is his day job, insofar as he has one. Beware of Mister Clevver!" —Omnivoracious, March 2017
Malala Yousafzai
"The Alchemist, by Paulo Coelho. I like it because it is hopeful and inspiring. It tells the story of a boy who embarks on a journey to find a treasure, but as he goes along, he learns from every part of his journey and every person he meets. In the end, he finds his treasure in a very interesting place. His story tells you that you should believe in yourself and continue your journey." —The New York Times, August 2014
Solange
"Claudia Rankine's Citizen really blew my mind. A friend of mine in Marfa, Texas, who owns the bookstore there gave it to me as an anniversary present and it is truly a beautiful, honest, and poignant book of poetry about black existence. I just lent it to a friend actually, but it's the kind of book you want to read a few times to really let the words resonate …"
—InStyle, September 2016
Patti Smith
"There are two kinds of masterpieces. There are the classic works monstrous and divine like Moby Dick or Wuthering Heights or Frankenstein: A Modern Prometheus. And then there is the type wherein the writer seems to infuse living energy into words as the reader is spun, wrung, and hung out to dry. Devastating books. Like 2666 or The Master and Margarita. The Wind-Up Bird Chronicle is such a book. I finished it and was immediately obliged to reread it. For one thing I did not wish to exit its atmosphere. But also, the ghost of a phrase was eating at me. Something that untied a neat knot and let the frayed edges brush against my cheek as I slept." —M Train, October 2015
Roxane Gay
"When the world is too much, I love to read thrillers and romance novels. I just want to lose myself in something either intriguing or ludicrously romantic. For inspiration, I go back to my favorite books, the ones I wish I had written. This seems sufficiently vague given that I haven't listed any titles. My No. 1 go-to book is The Age of Innocence, by Edith Wharton."
—The New York Times, January 2017
Jesmyn Ward
"I think that the first book that made me think that I could try to be a writer – or that made me aware that a young black woman from the South could write about the South — was Alice Walker's The Color Purple, which I read for the first time when I was in junior high. Because I saw something of – not myself – but the experience of the people around me reflected in that book, because it's set in the rural South and these people are poor, and just seeing that she could do that made me think, 'Maybe I could do that.' It just made me realize that it might be possible." —Entertainment Weekly, November 2011
Gillian Flynn
"Norman Mailer's The Executioner's Song. My other comfort food; I read that one a couple times per year. It deals with every part of why we become fascinated with murder, which is that it deals with the people involved; it deals with the media and how it handles it and how certain personalities captured our interest. And that Garry Gilmore was a murderer for no good reason. He killed innocent people, and yet you find yourself inherently liking him and drawn to him because of his sheer charisma and personality. I like that cognitive dissonance that is involved with becoming fond of the cold-blooded killer." —Vulture, September 2014
Tina Fey
"I want to tell people, 'If you do two things this year, watch Idiocracy by Mike Judge and read [Nazi filmmaker] Leni Riefenstahl's 800-page autobiography [Leni Riefenstahl: A Memoir] and then call it a year.'…[Riefenstahl] grew up in Germany. She was in many ways a brilliant pioneer. She pioneered sports photography as we know it. She's the one who had the idea to dig a trench next to the track for the Olympics and put a camera on a dolly. But she also rolled with the punches and said, 'Well, he's the fuhrer. He's my president. I'll make films for him.' She did some terrible, terrible things. And I remember reading [her book] 20 years ago, thinking, 'This is a real lesson, to be an artist who doesn't roll with what your leader is doing just because he's your leader.'" – The Hollywood Reporter, December 2016
Anne Lamott
"A Wrinkle in Time saved me because it so captured the grief and sense of isolation I felt as a child. I was 8 years old when it came out, in third grade, and I believed in it – in the plot, the people and the emotional truth of their experience. This place was never a good match for me, but the book greatly diminished my sense of isolation as great books have done ever since. I must have read it a dozen times." —The New York Times, November 2012
Mindy Kaling
"Isn't [House of Mirth] freaking amazing? I love that book. It's so current. I think that's what makes it so timeless. Listen, I freaking love Jane Austen, love Charlotte Brontë, I love stories about frivolous families, and you know, sisterly rivalries — I love that. But House of Mirth so describes the feeling of being trapped in a time of not wanting to get married but sort of having to, and having one chance out of it and the tragic side of that. Because in the Jane Austen books, they usually end up getting married, right in the nick of time, and in House of Mirth, it's what happens when you don't. And she didn't even want to! She would have been okay not doing it. Anyway, I just love that book. It's just so good." —Entertainment Weekly, October 2011
Hillary Clinton
"The Brothers Karamazov made a lasting impression on me when I read it as a young woman; I intend to reread it this summer to see what I now think about it. My favorite short stories are by Alice Munro, especially her collections Carried Away and Runaway. That's an easy choice for me compared with the many poets I've appreciated over time. Included in that list are E.E. Cummings, T.S. Eliot, Seamus Heaney, Pablo Neruda, Mary Oliver, and W.B. Yeats." —The New York Times, June 2014
Tavi Gevinson
"In middle school and high school I reread The Virgin Suicides every summer. I can't un-blur the lines between the moments and visuals from the book, and the memories of my own life at that time." —Entertainment Weekly, November 2014
Maya Angelou
"The Collected Poetry of Paul Laurence Dunbar. When you are put down by the larger society and there's a poet who compares the color of your skin to chocolate and brown sugar, you fall for it, because you need it. Paul Laurence Dunbar — who was one of the great poets of the 19th and 20th centuries — wrote about African-Americans, and he showed me the beauty of our colors and the wonder of our music." —The Week, April 2013
Cheryl Strayed
"The Dream of a Common Language by Adrienne Rich. I carried it the entire hike. On my first night, when I felt like I was in too deep, I read the first poem out loud to myself over and over." —The Boston Globe, March 2013
Chimamanda Ngozi Adichie
"Camara Laye's The Dark Child and Chinua Achebe's Things Fall Apart because they gave me a glorious shock of recognition. Until I read them, I was not consciously aware that people who looked like me could exist in books. I grew up in a Nigerian university town, and all the books I read before then were foreign children's books with white characters doing unfamiliar things." —Oprah, June 2010
Sonia Sotomayor
"My God, what an impact [1984] had on me. The idea of Big Brother was, and I may still, influence my thinking about democracy; the idea that we would have a government that was all-knowing and all-doing for human beings was frightening…That was a seminal piece in my waking up to the role of government in individual lives." —NPR, January 2013
Sheryl Sandberg
"Somewhere in that pile of books on my night stand sits a well-worn copy of Anna Quindlen's A Short Guide to a Happy Life. I've read it before – and I will read it again – and just knowing it's at my bedside gives me comfort. Her wisdom resonates for me on the deepest level: 'But you are the only person alive who has sole custody of your life. Your particular life. Your entire life. Not just your life at a desk, or your life on the bus, or in the car, or at the computer. Not just the life of your mind, but the life of your heart.' Perfect." —The New York Times, March 2013
If you buy something through our links, New York may earn an affiliate commission.