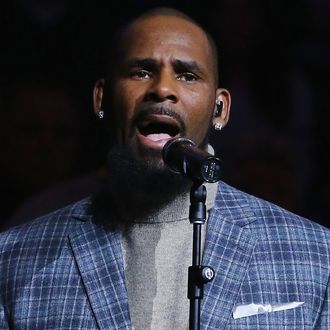 Kelly.
Photo: Al Bello/Getty Images
In an explosive new BuzzFeed investigationfrom Jim DeRogatis, the reporter who broke the story on R. Kelly's alleged sexual abuse of underage women nearly 20 years ago, the R&B singer is accused of running a "cult" that preys on women. Two families tell DeRogatis that their daughters — a 19-year-old from Georgia and an 18-year-old from Florida who was 17 when she met Kelly — are being held "prisoner" at Kelly's rental properties in Chicago and Atlanta, one for over a year. Three former associates of Kelly's have corroborated the families' stories and tell BuzzFeed that they personally witnessed at least six women living in the properties as part of Kelly's "cult." By all accounts, Kelly subjects the women to emotional abuse, including "dictating what they eat, how they dress, when they bathe, when they sleep, and how they engage in sexual encounters that he records." One associate, Kitti Jones, who says she also had sex and lived with Kelly, claims Kelly physically abuses the women if they break Kelly's "rules." In spring 2013, Kelly allegedly "held [Jones] against a tree and slapped her outside of a Subway sandwich shop … because she had been too friendly with the male cashier there."
According to the two families, their daughters, each aspiring singers, were introduced to Kelly in 2015 under the impression that he would professionally mentor them. Each say Kelly initiated sexual relationships with their daughters via private text messages, and that Kelly restricts communication with their families. Last summer, the women allegedly under Kelly's control ranged from that 18-year-old Florida singer to a 31-year old "den mother" — the best friend of the underage woman in the infamous videotape that led to child pornography charges against Kelly — who allegedly "trained" new women on Kelly's sexual preferences. One woman allegedly part of the "cult" is the 19-year-old woman Kelly reportedly started publicly dating last August.
The family of one of the alleged victims, who appears to have dropped out of college last fall to live with Kelly, says they have not seen their daughter since December 2016:
"It was as if she was brainwashed. [She] looked like a prisoner — it was horrible. I hugged her and hugged her. But she just kept saying she's in love and [Kelly] is the one who cares for her. I don't know what to do. I hope that if I get her back, I can get her treatment for victims of cults. They can reprogram her. But I wish I could have stopped it from happening."
That family attempted to file a missing person's report with campus police but were unsuccessful because they know their daughter's whereabouts and she is of legal consenting age. They have since opened an investigation with the FBI. Police in both Illinois and Georgia have conducted welfare checks at both properties in the past year that have not brought any charges. When contacted by police, the Georgia woman said she was "fine and did not want to be bothered." In tapes of conversations between that singer and Kelly, acquired and published by BuzzFeed, which the woman recorded with the help of a producer after becoming suspicious of Kelly's motives, Kelly is heard saying, "I'm more interested in developing you. Songs are not an issue. We can always do a hit song."
The parents of the 18-year-old Florida singer have also contacted police and say that when the alleged victim's older sister attempted to rescue her in August 2015, Kelly and his associates physically assaulted her. According to a police report, that incident is being treated as a "simple battery" and an arrest has not been made. The family had not heard from their younger daughter in over a year until last Friday, after BuzzFeed contacted Kelly and the woman. They said the daughter invited them to an R. Kelly concert in Indiana (they declined) and revealed Kelly had paid for her to have breast-enhancement surgery. "I desperately want my daughter back but I'm not [sure] what will [be] the repercussions if she doesn't come willingly," the mother says.
Kelly was acquitted of the child pornography charges in 2008, and has settled multiple other sexual-abuse lawsuits out of court. Kelly has not yet commented on BuzzFeed's story, but his lawyer responded: "Like all of us, Mr. Kelly deserves a personal life. Please respect that." Vulture has reached out to Kelly's reps for comment.