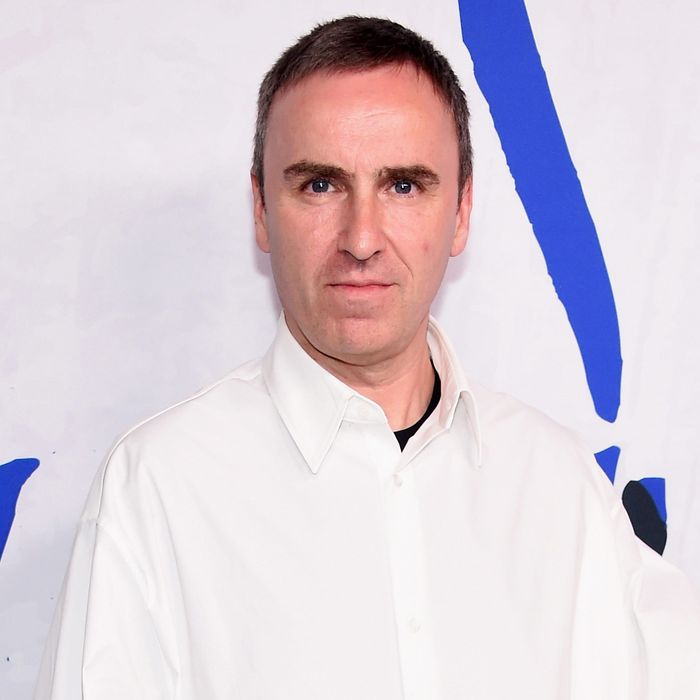 Raf Simons.
Photo: 2017 Getty Images
No amount of Raf Simons interviews will satiate our desire to know every single quotidian or philosophical thought that passes through the designer's mind. But Vanity Fair's latest conversation with the "fashion darling" brings us just a little bit closer to understanding his brilliance.
Since arriving in New York for his debut at the helm of Calvin Klein, Simons has won the affections of the city's most jaded, and become a beacon of sorts for an otherwise fickle fashion calendar. In fact, the new Calvin Klein flagship quite literally glows.
In his first in-depth interview since February, Simons speaks candidly with writer Bob Colacello about how he's approached the Calvin Klein legacy thus far, and where he hopes to take American fashion in the future. Below, 11 takeaways.
1. Simons didn't meet Mr. Calvin Klein himself until June (almost a year after his appointment as chief creative officer). They had a "very nice, very easy" breakfast at Sant Ambroeus in the West Village, according to Simons. Unclear what they ordered.
2. Simons thinks Mr. Klein had a lot of "guts" for posting huge underwear billboards in New York. "That is what I like," he says. "Somebody who dares."
3. In his office, Simons has two ceramic vases by Picasso. He's a "huge fan."
4. Simons's favorite female artists are: Cady Noland, Cindy Sherman, Rosemarie Trockel, Isa Genzken.
5. Even the bed for Simons's dog, Luka, "is a work of art," says Colacello. It's covered in Sterling Ruby paint splatters.
6. Tommy Hilfiger streamed the Calvin Klein fall 2017 show online. How very millennial!
7. Simons wore black turtlenecks in the summer. "[It] was striking," recalls photographer Willy Vanderperre of his outfit choice. "As it was a warm summer evening."
8. Simons doesn't want a retrospective of his work at the Metropolitan Museum of Art.
9. He doesn't think fashion should be in a museum at all, in fact.
10. And he doesn't consider himself an artist.
11. Simons does, however, want to drink Coke Zero all day, every day. "I'm very dedicated to Coca-Cola Zero," he says in the Raf-iest quote of all time. "You know what I mean?"