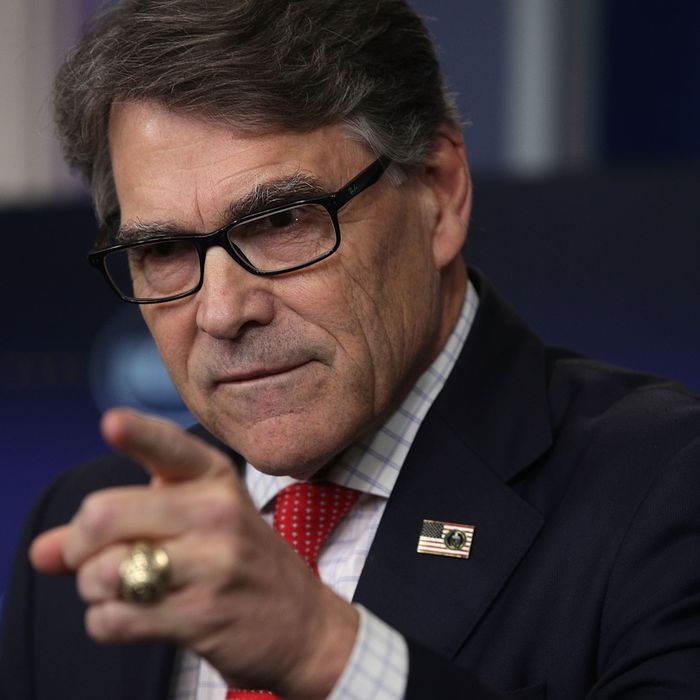 Rick Perry.
Photo: Alex Wong/Getty Images
On July 19, current Energy Secretary and former competitive dancer Rick Perry had a phone call with Ukrainian prime minister Volodymyr Groysman, in which the two leaders discussed cyberhacking, the Paris accord, and a new biofuel made with pig manure. Except Secretary Perry wasn't actually talking to Prime Minister Groysman; he was talking to a pair of Russian pranksters described as "The Jerky Boys of Russia."
During the 22-minute call, Vladimir "Vovan" Kuznetsov and Alexei "Lexus" Stolyarov asked Perry how the U.S. and Ukraine could work together in the energy sector. They also told him Ukrainian president Petro Poroshenko had invented a new type of biofuel, which is produced by combining home-brewed alcohol and pig manure.
Perry said he looked forward to meeting with the president and getting "a more in-depth briefing."
Department of Energy spokesperson Shaylyn Hynes confirmed that Perry had indeed been pranked, but it is still unclear how the fraudsters managed to get in touch with him, given that calls between Cabinet secretaries and high-ranking foreign officials are usually heavily vetted.
Although it's somewhat concerning that two jokesters were able to get the Energy Secretary on the phone for over 20 minutes, this is still one of the most appropriate interactions anyone in the Trump administration has had with Russians.
You can listen to the full call between Secretary Perry and the two pranksters on Vesti, a Russian news site.