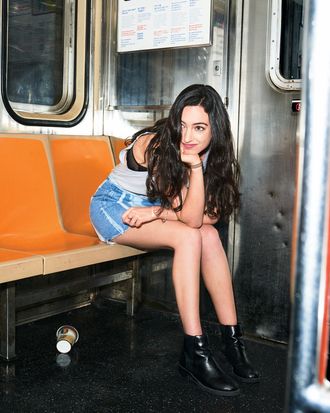 David's first time sitting (gingerly!) on the subway. David wears skirt by 3x1.
Photo: Kyle Dorosz
"I'm really bad at math," Cazzie David says as I show her how to use a MetroCard machine. It's her explanation for why, after a lifetime of visits to New York, the L.A.-based 23-year-old has never ridden the subway."I know it takes no math to ride the subway," she clarifies in her deep, disarming monotone, getting out her credit card to purchase a single ride. "But there are all these letters, and you have to figure out how they connect to numbers, and I'm not, like, Einstein." Also: David is almost cripplingly germophobic; she's terrified of getting sick, mostly because she is terrified of throwing up (which she recently worked through in therapy: "It comes from when I was 4 years old and choked on a piece of food, and my nanny had to reach down and pull it out of my throat"). Plus, she doesn't like crowds. "New York is tough for me," she says.
If it's possible, David is even more of a neurotic basket case than her father, noted neurotic basket case Larry David. She'll be the first to admit it and says this is because whatever set of tics she's inherited from him are compounded by the set she's inherited from her mother, environmental activist Laurie David: "My mom has really bad neuroses about chemicals and environmental stuff," while her dad "is more neurotic about sickness and death-related stuff." Which means, she says, "that I am just the most insane person."
So she's dealt with it in the way most 23-year-olds in her position would: She created a semi-autobiographical web series. The show, Eighty-Sixed, which David directed, starred in, and co-wrote (her writing partner is a college friend, Elisa Kalani), debuted in April (six episodes have aired). Filmed in L.A., each under-15-minute vignette follows a 20-something named Remi (played by David) as she attempts to get over a bad breakup, terrorizing her friends in the process. "Can you not sit on my bed in city pants?" she asks when one of them tries to console her in the first episode. In the second episode, she berates them for not ordering "solidarity" ice-cream cones. The show sharply captures the nuances of how social media now dominates young people's friendships and romantic relationships. But, at its core, Eighty-Sixed is really a show about … nothing, and the most appealing thing about it is watching David play a caricature of herself: a difficult — but somehow kind of winning — grump.
Given this summer's never-ending subway horror show (which seems best not to bring up), we settle on the relatively low-trafficked Queens-bound W, which we catch at 23rd Street, for her maiden voyage. When the train arrives, I suggest David lean against the subway door for minimal flesh-to-subway contact, but she decides against it. "Then the whole back of my clothes will get dirty," she says. "If I hold on to the pole, I can be very aware of this one part of my hand." She tentatively grabs on.
As we zip through the Upper East Side, she tells me she started working on the show soon after graduating from Emerson in 2016, very soon after her Instagram account was "discovered" by the site Uproxx, which embedded a selection of her photos into a post: Cazzie in a bikini reading Me Talk Pretty One Day in Turks and Caicos while sipping a drink out of a coconut, Cazzie and friends flashing their wristbands at a music festival. Suddenly, she had tens of thousands of followers, and the Daily Mail, as it does, declared: "Lavish vacations, boozy baths and fine dining! Seinfeld creator Larry David's 21-year-old daughter finds overnight fame with her Rich Kids of Instagram–style photos." Whether she's standing next to her dad at Manassas National Battlefield Park ("He's making us tour every Civil War battlefield," her caption deadpans) or posing with her boyfriend, SNL actor Pete Davidson, or with a friend in a photo booth at the Vanity Fair Oscar party, her life comes off as both covetable and ever-so-slightly relatable. "But it all made me so uncomfortable," she says. "I didn't want any attention for having done nothing in my life yet," she adds, "so it kind of rushed me into doing this web series." Meanwhile, she got a job working as a PA on the upcoming Curb Your Enthusiasm reboot. "It was the easiest job I could get," she says, though the producers insisted she be on set at 6 a.m. "I complained to my dad, and he was like, 'You have to come in on time or you're going to be fired.' It was miserable. I was, like, getting lunch for Jeff Garlin." While David says her dad is supportive of her own show, he has no involvement (and he and Laurie refused to fund it). "I don't want, like, his notes about continuity errors," she says.
As our W train rises aboveground and winds around a rickety stretch of track in Astoria, Cazzie stares out the window with concern: "This feels like a roller coaster — I'm scared of those, too." I suggest we sit, and she says she prefers to stand, reminding me that she'd rather not have more parts of her body touch the subway. "Oh, but if you want to sit, we totally can," she says. I tell her I'm fine standing, and suddenly I feel like one more move on my end and I'm in an episode of Curb, heading into Richard Lewis territory.
After a few minutes, the train reaches its last stop, Astoria–Ditmars Boulevard, and I tell her we're in Queens. "This is such a worldly experience," she says. "Now I understand why people take this. This is really fast." We get out before realizing we need to get back on the same train, which will return us to Union Square, near where she's staying. For our trip home, she pulls out a hand wipe, which she wraps around the subway pole.
Clutching it, she tells me that she always knew she wanted to do something having to do with writing; her most famous "early work" was a brochure she gave to her parents explaining why she should get a T-Mobile Sidekick. Growing up, David switched schools a lot. "I didn't really know how to handle hating everyone so much," she says. "So I would just make fun of people; I loved that feeling of making a joke about someone and having people laugh." But, she says, "after years of losing friends, I realized there were other ways to make people laugh. So I stopped talking shit about people … for the most part." She pauses and considers. "Or was more careful about it."
As we near our stop, David says she'll be spending the rest of the summer on Martha's Vineyard with her mom, then she'll head back to L.A., where she lives with her dad. "I'm so scared he's going to die someday, so I want to spend as much time with him as possible," she says. "To my friends who don't live at home, I'm always just like, Don't you want to see your parents every night? My dad'll be watching a movie, and I'll just sit there, staring at him, and say, 'This might be one of the last times we're going to watch a movie together,' and he'll say, 'What are you talking about?' " And just like that, she's out–Larry David–ed Larry David.
We exit at Union Square, and I can see David visibly calm down — until we walk through a cluster of pigeons and she tenses up again. "Oh, I'm also scared of pigeons."
*This article appears in the July 24, 2017, issue of New York Magazine.