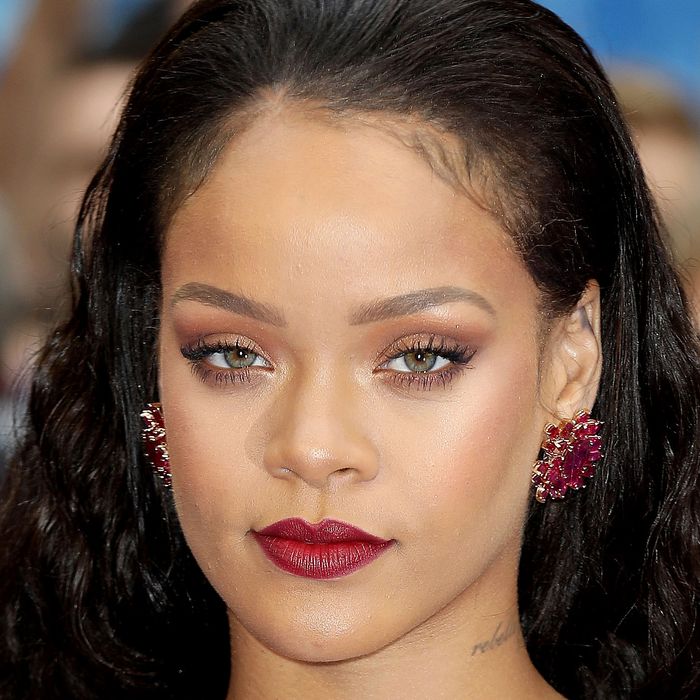 Rihanna met with Emmanuel Macron on Wednesday.
Photo: 2017 Getty Images
On Wednesday, Rihanna took a break from destroying us all with her red-carpet looks and drinking wine on the go to meet with French president Emmanuel Macron. According to ABC News, French First Lady Brigitte Macron greeted her on the steps of the Élysée Palace before she made her way inside.
The whole thing apparently happened because Rihanna tweeted at Macron in late June to ask whether his administration would commit to funding global education.
The two reportedly discussed Rihanna's work with the Clara Lionel Foundation, which she founded in 2012, and which funds education and health programs in impoverished communities around the world. Afterward, Rih told Women's Wear Daily that the meeting went well.
"They were incredibly welcoming," she said of the president and First Lady. "We focused on the topic of education from global aspects." She went on, "I was so inspired and impressed with his leadership. I can't wait to see where this is going to go, but I think this is the year for education." She added that a "big announcement" will be coming in September.
It seems like Macron is into hosting U.S. celebrities of late — he met with Bono earlier this week, and the two reportedly discussed the refugee crisis. "I haven't had many conversations quite like that — a president very open to finding new innovative ways to solve the problems affecting the world's poor," Bono told reporters after the meeting. Who will Macron welcome to the stage next? Stay tuned.