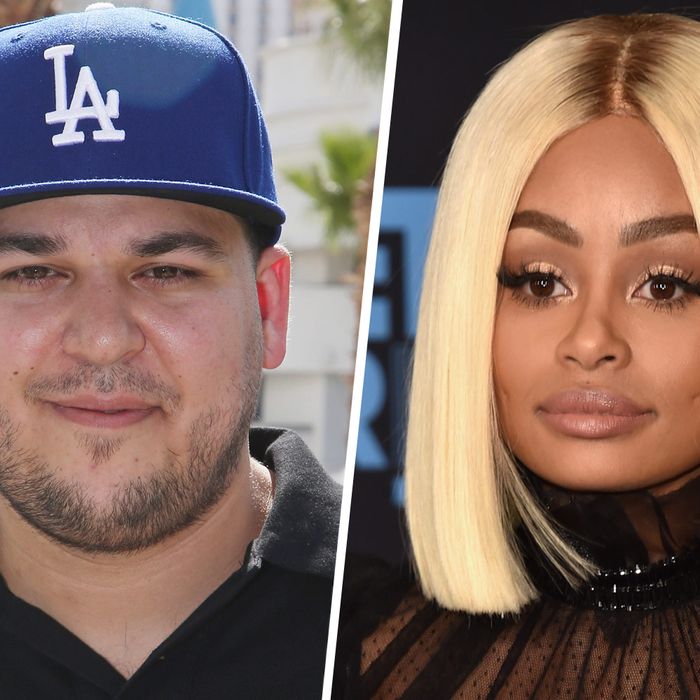 Blac Chyna and Rob Kardashian.
Photo: Getty Images
On Wednesday, Rob Kardashian posted a series of explicit images and messages to Instagram to call out Blac Chyna for, among other things, allegedly cheating on him and using drugs. Among the images were two nude pictures Kardashian claimed were of Chyna, which appear to have been posted without her consent. The nude images have since been deleted, although a number of derogatory posts are still up on Kardashian's Instagram account. Chyna, in turn, reportedly responded by accusing Kardashian of domestic violence on her Snapchat account.
Kardashian started his Instagram rant by posting a video of Blac Chyna kissing a man, which he claimed she sent to him on the Fourth of July shortly after sleeping with Kardashian. He then proceeded to post text exchanges with the man she was apparently cheating with, in addition to a video of Chyna in a hospital bed before going into surgery, a series of screenshots from his Notes app of crude messages about his ex, and other posts taking aim at her. Kardashian also posted at least two naked images of a woman he claimed to be Chyna (but the woman's face was not visible), which were seen by the Cut shortly before they were deleted from his account.
According to Just Jared, Chyna responded to Kardashian through a Snapchat post that reads, "Rob u did all this but u beat me up and try act it never happen!!!!! U put hand on me I swear on god!!!! On my kids but I'm supposed to be quiet because you're a Kardashian. The light will come to the light."
Both Kardashian and Chyna reside in California, where revenge porn (or "nonconsensual pornography") has been illegal since 2013. We will update this post as more information becomes available.
Update, 4:00pm: Instagram seems to have shut down Kardashian's account, though he hasn't let that stop him. He's continuing to post photos of Chyna on his Twitter account.