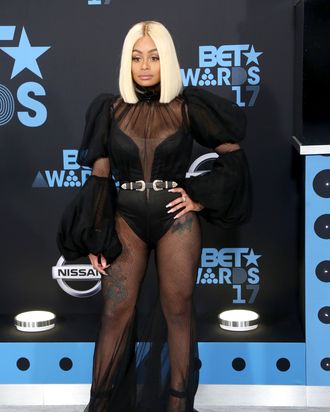 Blac Chyna.
Photo: Maury Phillips/Getty Images
It's been a rough few weeks for Blac Chyna. Her ex-fiancé, Rob Kardashian, posted nonconsensual photos of her on Instagram, including shots with her ex-lover, the rapper Ferrari. In response, Chyna got a restraining order, hired a lawyer, and went on Good Morning America. (Rob half-apologized.)
Then, Kim Kardashian accused Chyna of violating the family's nondisclosure agreement. (Which may have led Chyna, like the rest of us, to wonder what is left to disclose about the Kardashians?)
Now, per TMZ, Chyna has banned Ferrari from the club where she is performing in Atlanta tonight. She has also hired four extra bodyguards in case Ferrari shows up anyway.
"Chyna's camp claims Ferrari's been calling and texting her the past week, and demands for him to stop the harassment having been blown off," TMZ reports. "Chyna believes he's released revenge porn despite a letter warning him not to, and she also fears for her safety because he's acting obsessive and delusional."