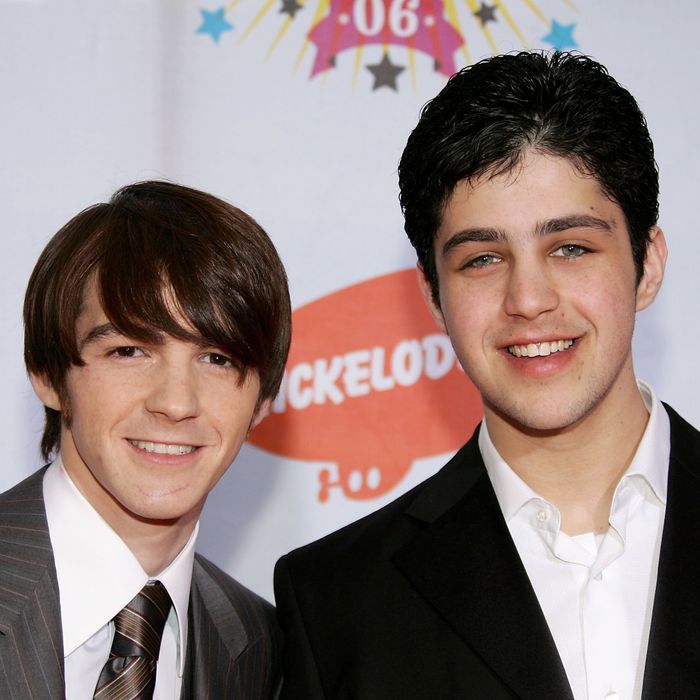 Best friends.
Photo: Frazer Harrison/Getty Images
During a summer of unending political disasters, a low-stakes feud between former Nickelodeon stars felt like a breath of fresh Schadenfreude. So it is with great displeasure that I must report the petty drama between Josh Peck and Drake Bell may soon be over. In an interview with E! News, Drake Bell referred to his former Drake and Josh star as his "brother" five separate times, and described the ups and downs in their relationship as nothing more than the "yin and yang of brotherly love."
A brief recap for those of you who don't have a "Drake and Josh + blood feud" Google alert: On June 18, Josh Peck, who is now hot, got married, and Drake Bell, who is now abs, was not invited. Bell responded with a pair of since-deleted subtweets, which said, "When you're not invited to the wedding the message is clear … " and "True colors have come out today. Message is loud and clear. Ties are officially cut. I'll miss you brotha." Later, Peck told Us Weekly that Bell never texted him back to congratulate him on his engagement, and at some point, John Stamos was involved. Drama!
Bell told E! he "shot from the hip" and that the passive-aggressive tweets were the result of feeling like a "bummed out brother." But he insisted the incident had done nothing to their relationship.
"I mean, we're brothers. We're friends. He's been one of my dearest friends for the past 18 years. He's one of the people that I know for a fact, no matter what happens in life, I can call Josh at any time of the day and he'll be right there for me. If he's not in some other country or something, then he'll be there."
A few weeks after the feud erupted, Drake released a new EP, but those two things are probably not related. For now, it seems we will have to cross our fingers for another Nickelodeon feud. Hopefully the next one will involve more slime. Check out the interview below.