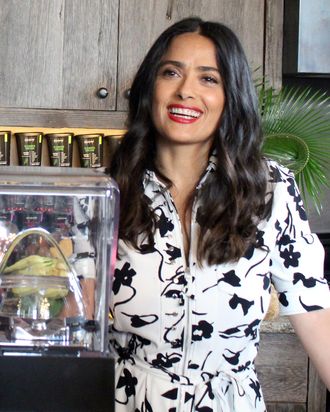 If someone has to throw a smoothie in your face, there are worse people to do it than Salma Hayek. A few weeks ago, Hayek was championing smearing fruit on your skin at a press event for Juice Generation's Blend-It-Yourself, a new line of smoothies — four of which double as face masks. I was skeptical. Eating good food for healthy, glowing skin makes sense, but not everything works topically. Does açaí really need to be on my face (or even in my nail polish) rather than in my stomach?
Hayek explained that her grandmother was a "witch" — she used the term lovingly — who studied with herbalists and healers. She used to rub leftover fruits and vegetables from her meals across her body all the time, and not just because she was being frugal. "My grandmother would take the leftover papaya, add some orange juice, and put it on her face," Hayek explained. "I would say, 'Abuela, you look crazy.' 'This is how I stay beautiful,' she would say."
Hayek blended a Papaya Avocado smoothie using one of the very high-powered blenders sitting in front of her, dumping in precut frozen chunks of papaya and avocado with almond milk. She poured the mixture into a cup and used it to give a hand massage to Sable, the beauty editor from Allure.com. "Cold!" Sable yelped.
Honestly, it didn't look that great. Unlike most masks, the smoothie was drippy. It glopped from Sable's hands onto the sink like something that was intended to be sipped through a straw — which it was. I tried to ask Hayek when she would apply a mask like this. In the shower? In a towel? Definitely not in Gucci. "In the morning," she said.
But then, like a live QVC segment, Hayek showed us Sable's "treated" and "untreated" mask hands. While her untreated hand wasn't slacking in the looks department, her treated one looked more evenly toned and brighter and even felt softer.
"Touch it!" Hayek commanded, and a group of us gamely petted Sable's hand. Being a beauty editor is about being tactile, after all.
Intrigued but not completely convinced, I ordered some of the Blend-It-Yourself mixes. Each one contains cut-up fruit, and some also come with little cubes, about the size of a pinky fingernail, with the "flavorings" for the mix. In the case of the Watermelon Hibiscus, for example, you get squares of watermelon, avocado, and honeydew, along with tiny magenta cubes containing skin-friendly herbs like rosewater, calendula, and hibiscus. Calendula is known for its ability to absorb oil; Kiehl's Calendula toner, a cult product, has bits of the herb floating in the liquid. Rosewater is commonly used in face mists during facials and backstage at runway shows.
The masks are just as messy at home as they were in Hayek's rented penthouse. The liquid — it wasn't quite a paste — dripped into my hair, although not into my eyes, and in order to get it to dry on my face, I had to tilt my head back and apply a thin layer of the mask using a thoughtfully provided fan brush. To their credit, though, the masks don't feel sticky or uncomfortable to wear; the cold actually felt invigorating and tightening.
I did an A/B test with several of the masks where I brushed the liquid on just half my face. Each time, I was surprised to find that the side with the mask always performed better — it looked more evenly colored and more vibrant. Even my dark eye circles seemed lighter. As a nice bonus, I only needed a small amount of the smoothie for my face, and the rest was slurpable.
Also, the smoothies are delicious. Each container has a fill line marked so you know precisely how much almond milk or liquid to add to blend. It's largely idiot-proof. True, you could just go buy fruit yourself, but each of the blends contains up to seven well-paired ingredients, including harder-to-come-by fruits like mangosteen. I was pleasantly surprised by the existence of nuts in several of the blends, which added a hint of savoriness and texture.
Overall, the masks are perhaps a little too messy to put on my face every day — but they taste way better than any sheet mask I've tried.