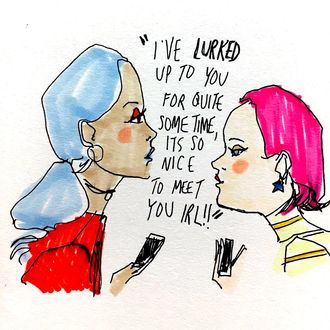 Sara Rabin's
Down Town Shit Girl
, 2017.
Illustration: Sara Rabin
Sara Rabin's emotions run on permanent overdrive. To cope, the 25-year-old Brooklyn-based artist draws them: raw, shameless depictions of everyday life as a woman in New York. Her Instagram feed reads like a cynic's diary: There's this drawing comparing thin voting lines with hordes of people at Supreme, and another sketch of a woman who's presumably shopping at Whole Foods: "No fucking way would I buy a peach for $2.50," the caption reads.
Rabin's first solo show opened today in New York, at Larrie gallery on the Lower East Side. Titled "Crazy? Did you say Crazy? I was crazy once" (a nod to a rhyme she heard ten years ago, and can't get out of her head), the show features a selection of Rabin's cartoon-inspired drawings that gallery curators liken to the celebrity caricature portraits on the walls at Sardi's. Often accompanied with text and broody oil paintings, the illustrations offer a window into the female soul — specifically, hers — and a glimpse of her prolific output.
In the pieces on display, Rabin sketched subway riders, spectators at her brother's soccer game, and her best friend in the nude, who wanted to gift the portrait to her boyfriend. Manga characters, cats, and stock photos from Google image searches were also fodder for Rabin, whose choice tools are a pencil and pen. Her work embraces imperfections, exaggerating physical flaws as instances of beauty. A series of smudged drawings on kraft paper depict female genitalia with eyes, possibly influenced by Rita Ackermann, one of Rabin's heroes, whose overtly sexualized female protagonists exist in a similarly grim world. But Rabin's drawings on restaurant-receipt paper are the show's highlight, sketched during her past waitressing shifts at Dimes, which record the joys of customer service in the style of Raymond Pettibon.
Rabin's paintings, which she calls "emotional portraits," dive deeper into juvenile angst. Many render a grotesque girl-creature with turned-up eyebrows and a stretched mouth, seeming to mourn an unknown pain. "When you hit that kind of sadness, all you can do is laugh because it's ridiculous to be that sensitive," she says. It's a weight she inadvertently carries around all the time. Painting the feeling is her way of confronting it.
While her scrappy, stream-of-consciousness drawings are completed in a matter of minutes, the technique has taken all of her years to perfect: Rabin's been at it for as long as she can remember. Born in Chicago and raised in Ohio, Rabin moved to New York to attend college at the Fashion Institute of Technology, where she studied fashion illustration. Her first commissions included pieces for Barneys New York and Keds while she was still in school.
In her best work, Rabin draws what she knows. Her subjects are almost entirely women. "It's not meant to be girls only — it's just what I'm familiar with," she explains. "I can't sympathize with men in ways I'd be good at drawing." An intense self-awareness fuels her unruly mind, which she describes as scattered and, sometimes, totally blank. Luckily for her, life is full of inspiration.
"Crazy? Did you say Crazy? I was crazy once" is on view at Larrie from July 30 to September 10.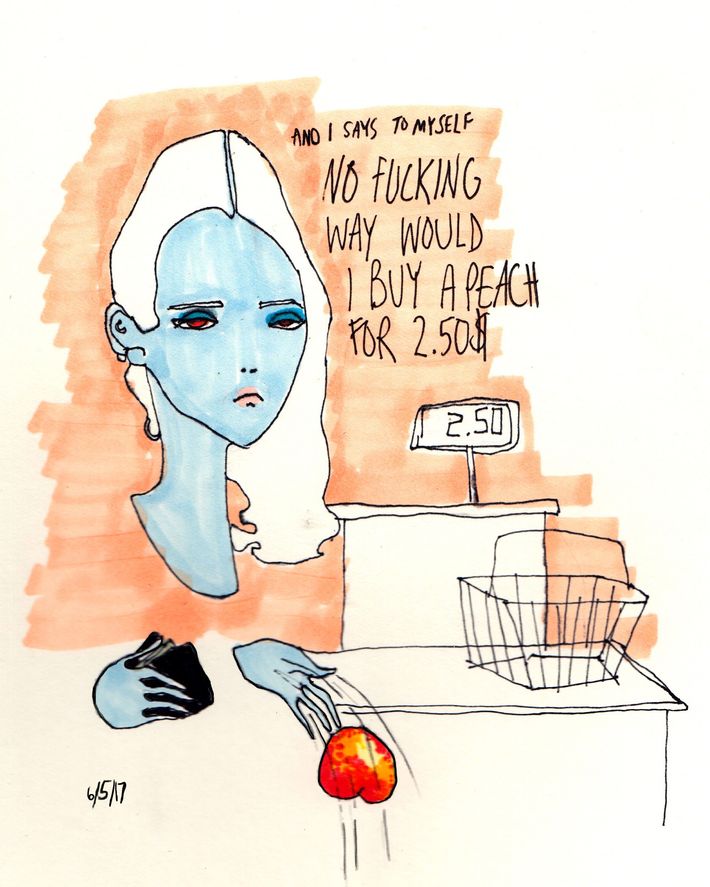 I'm Starving!, 2017.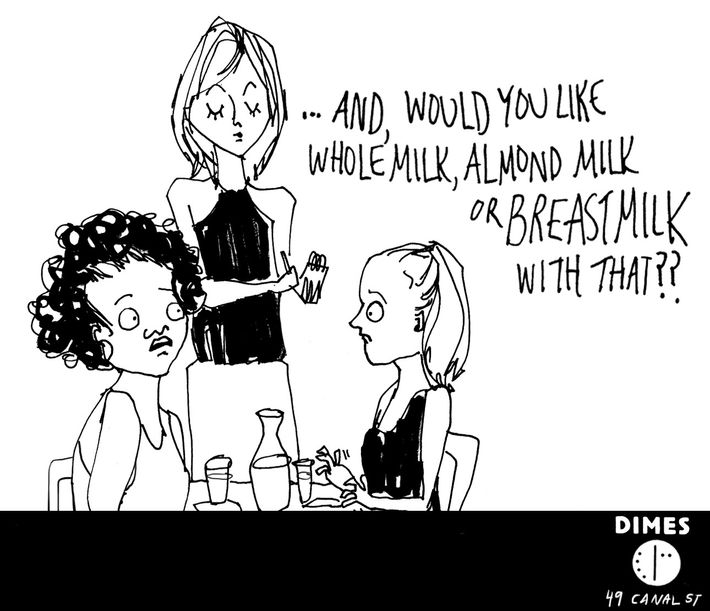 Paris Review Ad Breastmilk, 2017.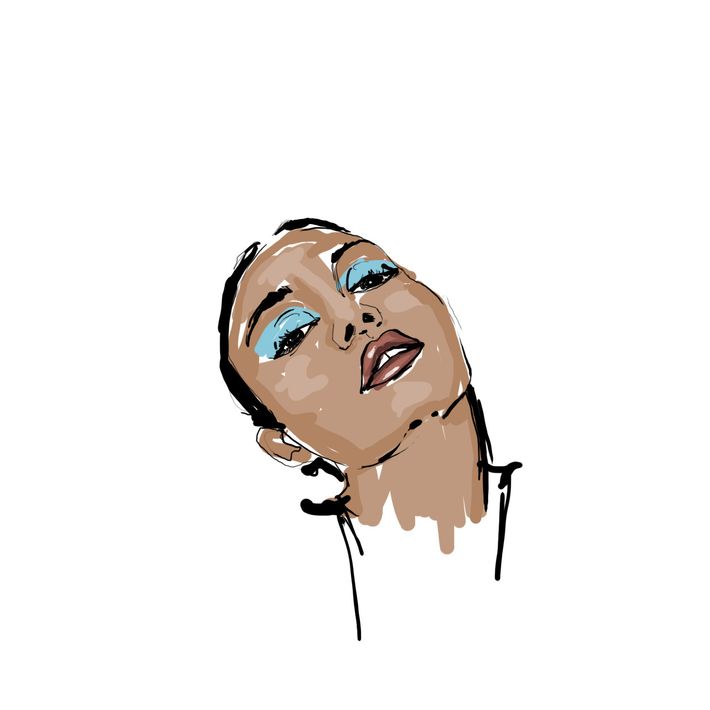 Queen P, 2017.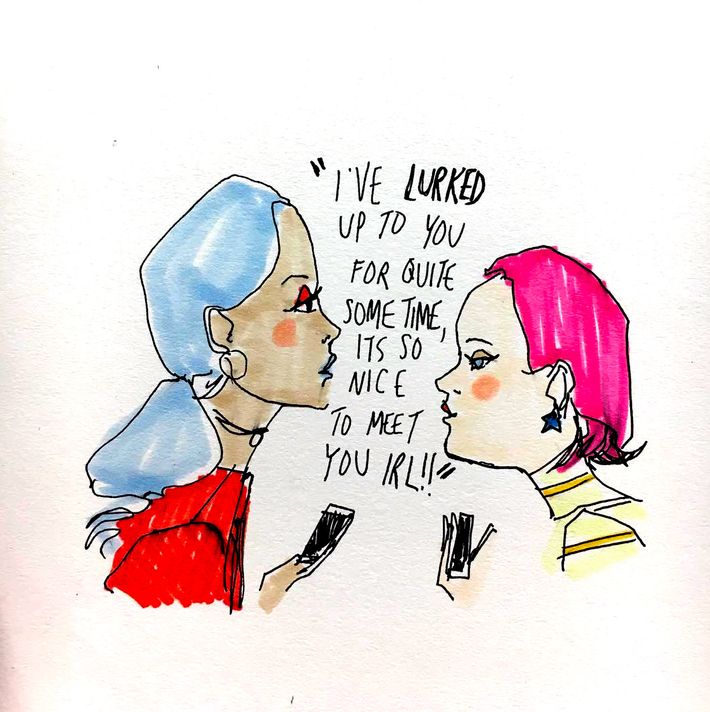 Down Town Shit Girl, 2017.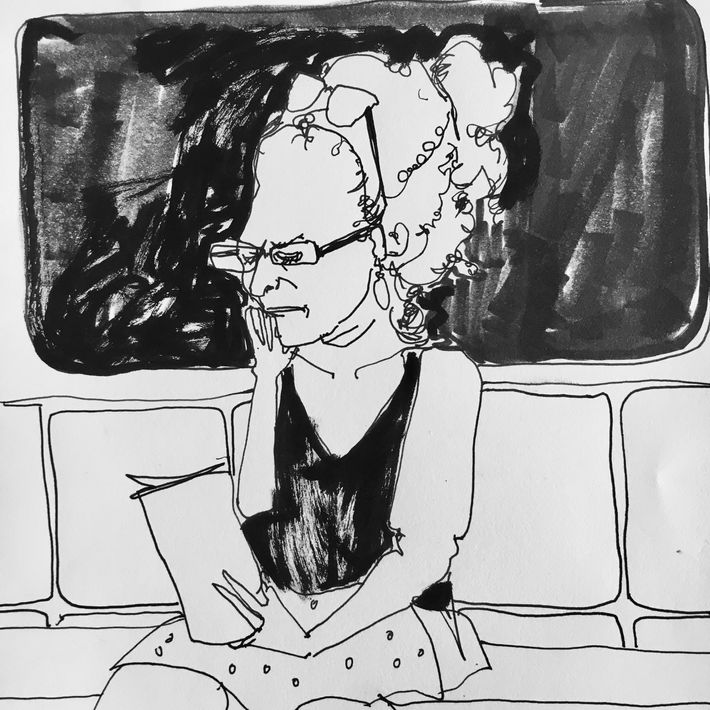 Commuter, 2017.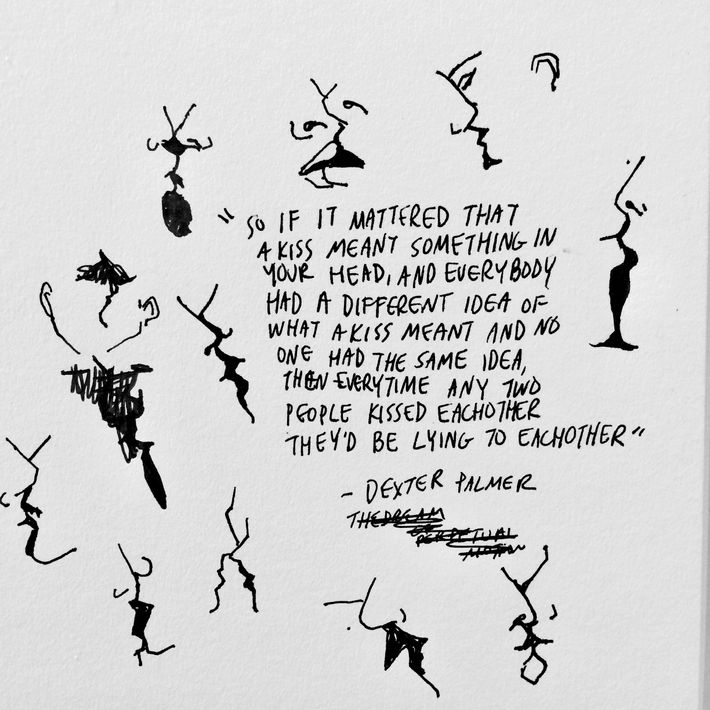 A Kiss…, 2015.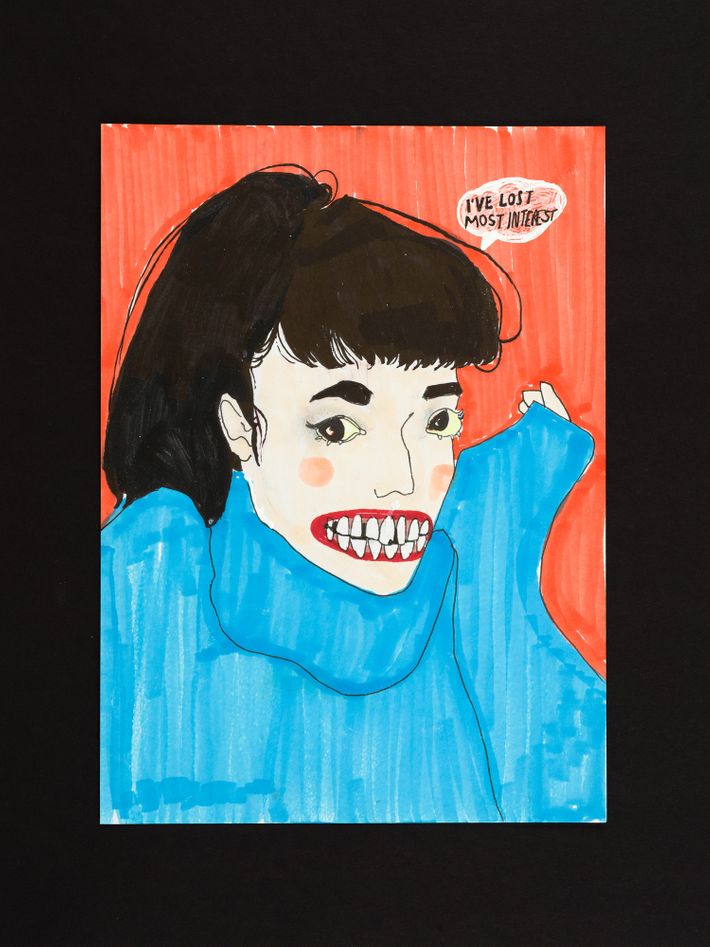 I've Lost Most Interest, 2016.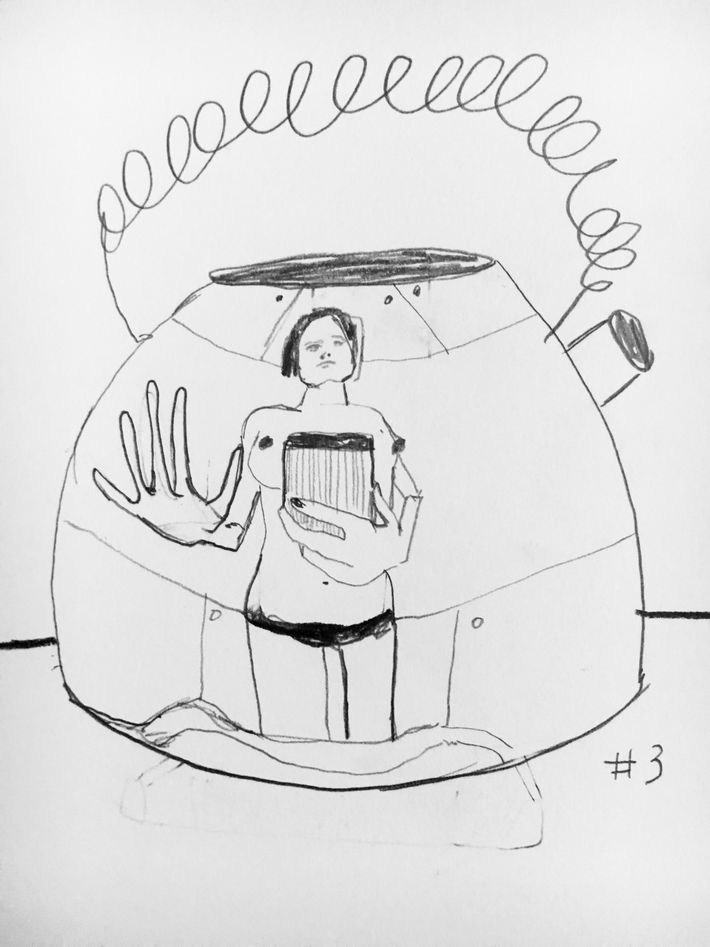 Tea Pot Reflection, 2015.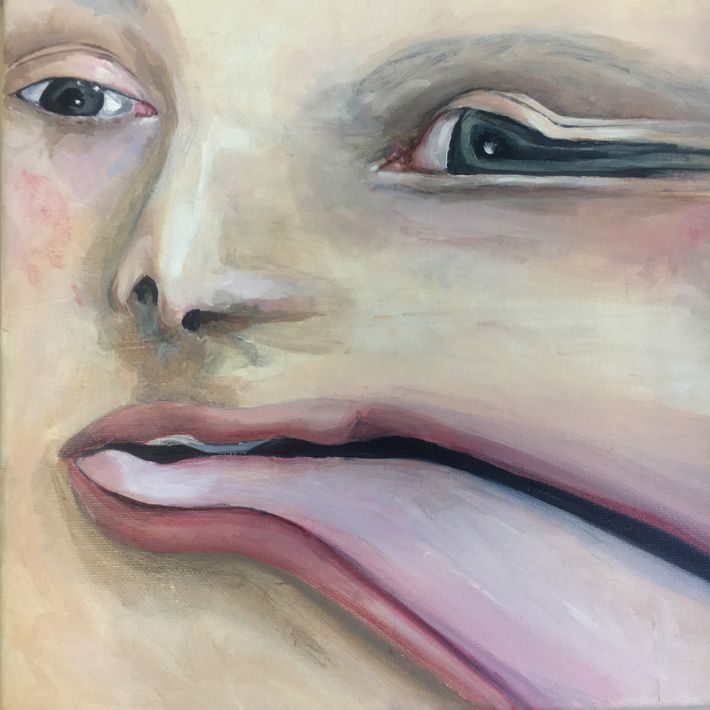 Face Swap, 2017.